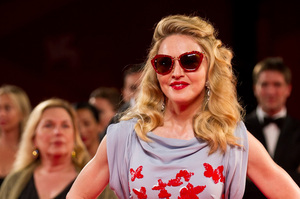 Madonna's perfume commercial is too racy for TV.
The Girls Gone Wild singer's new 30-second black-and-white ad for her Truth or Dare scent have been deemed inappropriate for Disney-owned channel ABC with bosses ordering that shots of her breasts and butt be digitally altered to cover them up.
A source the New York Post's Page Six: "ABC viewed the ad [and] came back with a list of changes. They say they want her bra digitally made bigger, and to extend higher to cover more of her chest, and her corset longer to cover more of her bottom. ABC also wants to cut another suggestive scene where Madonna writhes around."
However, even once the changes have been made, channel bosses have ruled the ad - which features Madonna, 53, in a corset and fishnet stockings dancing and singing "I'm a bad girl" - can only run after the 9pm watershed, with the exception of daytime show The View.
A second source confirmed: "ABC has requested some changes be made to the content of the Truth or Dare perfume commercial."
Madonna has previously said of the perfume: "I have always been obsessed by fragrance and for years wanted to create something personal that was an expression of me, but that other people could relate to as well. Something classical and timeless and yet modern."
Check out the 30-second ad for Madonna's new perfume below:
- BANG! Showbiz