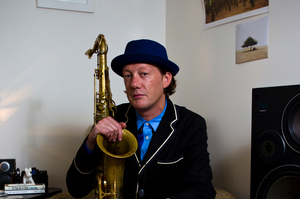 Nathan Haines has been a jazz luminary man since the mid-90s but this is the first time he's felt ready to make an album like The Poet's Embrace. That is, rather than the dance influences and guest vocalists he's become known for in recent years, this is a classic jazz album, based around an old-fashioned saxophone quartet, recorded live to tape in two days using the techniques of the 60s as inspiration. The 1959 Miles Davis classic Kind of Blue was used as a reference point for the recording - the microphones, their placement, the reverb, and the tape machine.
You can tell Haines has spent time on his harmonic understanding, studying Coltrane, getting patterns and relationships to sit deep within his brain, so all the improvisation sounds right on the button. Maybe that sounds a bit mathematical, but it's got a lot of vibe. It holds your attention with emotional threads, and captures an outstanding saxophonist and composer who's evidently worked hard to distil his experiences and learning.
It's a vinyl-length set of just eight tracks, and the title is a useful indication of the gentle sonic embrace within.
There's a lovely live charm to the recordings, perfectly pitched for a gin and tonic in hand on a blissful evening, with its relatively sunny, serene disposition.
And the playing is all beautifully tasteful and nuanced. Known for often playing the soprano saxophone in early years, Haines has chosen the tenor here and it's brought out a smoothness and an impressive nimble quality that is well suited to the compositions.
He's supported by a brilliant ensemble with younger players Alain Koetsier on drums and Thomas Botting on bass, with long-time friend Kevin Field on piano.
About 30 seconds into opening track Realisation, Botting and Koetsier lock into a wonderful groove with just the right light touch, and you know you're in for a treat. And Field's stunning intro to the title track is a highlight. It feels like a classic ensemble record - one that's cool, not for its innovation, but because it sounds like the greats.
Stars: 5/5
-TimeOut