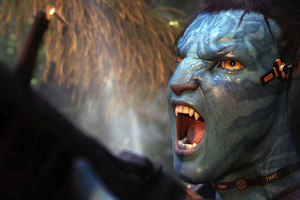 New details have emerged about the first in a series of sequels to the sci-fi epic, Avatar, with plans also going ahead for a theme park to recreate the world of Pandora.
Fans of the 2009 blockbuster, created by Titanic director James Cameron, can expect the release of an entire Avatar franchise in coming years as work gets underway on film No. 2.
"Most of the work that is being done right now is foundational, it's re-writing the code, it's building the software tools, it's not the sort of creative work with the cast and that sort of thing, that doesn't start until later this year," Cameron told reporters in London.
While the filmmaker remained a little guarded in his comments, his collaborator and producer of the original film, John Landau, was more carefree.
"We will continue to follow Jake," Landau said of the second film's script, making reference to the central character, played by Australian Sam Worthington.
"It will be Jake and Neytiri together. There will be other characters that come in, both on the good side and on the bad side. We will explore parts of the world you haven't seen before. It will be fun and adventurous."
Cameron has worked alone in writing the new script and that for a third film, but sounded doubtful when asked if the follow-ups would be as revolutionary as the first.
"That might be tricky because we kind of reinvented the wheel (with Avatar)," he said.
"Now it's more refining the process. The story will be completely new and fresh, and there will be fresh characters and environments and creatures and all that but the actual methodology, it was kind of a one-time revolution."
In addition to another screen production, the duo plan to recreate Avatar across a variety of forms, including a series of novels.
"The novel is something that will unlock the door for us to enter into other ancillary markets, whether it be graphic novels or television animation or whatever it is," Landau said.
"We think that entertainment today goes beyond any one medium and with Avatar we have an opportunity to continue to expand and tell the story of the world."
Part of the franchise will include a Walt Disney theme park.
"Not just a ride, but a whole world, where people will get to return to Pandora,'' Landau said of the Florida facility which has been rumoured to open in 2015.
Cameron and Landau would not speculate on a release date for the second film.
- AAP