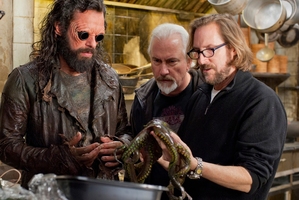 The Flight of the Conchords have never been more in demand but now you'll be able to have 50 per cent of the comedy duo all to yourself.
An action figure of Jemaine Clement is in the works - complete with his much-admired lips. Images of the figurine of Boris, the villain Clement plays in the latest Men in Black instalment, have been released which show the Kiwi comedian missing half an arm and grinning.
As well, stills from the film of the Conchord transformed into the evil Boris have been circling cyberspace and have been receiving comments of "finally" from eager fans.
Clement's face is heavily caked in make-up and his famous sideburns lengthened into a full beard. The look was created by acclaimed make-up artist Rick Baker who also worked on the previous two Men in Black movies
Men in Black 3 is directed by Barry Sonnenfeld and stars Will Smith, Tommy Lee Jones and Emma Thompson. It is due to be shown in American 3-D cinemas from May 25.
The film has Smith's character, Agent J, travelling in time to MIB's early years in the 1960s, to stop an alien from assassinating his friend Agent K, Jones, and changing history.