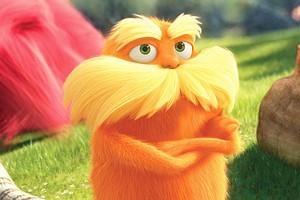 Dr Seuss is much loved by young and old alike, so film adaptations of his stories are a risky business. The makers of Despicable Me have given it a good crack though, and produced a colourful and family-friendly animation that has chosen an appeal to "cute" over the Dr Seuss quirk.
Zac Efron is the voice of Ted, a 12-year-old boy who goes to see the hermit Once-ler (Ed Helm) to hear the story of how, years before, he ignored the advice of the Lorax, the small orange guardian of the trees. Instead, he ended up destroying the environment by cutting down all the Truffula trees to make Thneeds, a clothing product, "which everyone needs".
It's a strong eco-message. Ted lives in a town called Thneedville where everything is artificial and locals must buy fresh air (like we buy bottled water) from the town's boss, King O'Hara. Throughout the film we flit between the Once-ler's story of the past and Ted's present-day story - with the wise Lorax (DeVito) getting a mention occasionally.
Strangely, Ted's not really interested in the Once-ler's long-winded story.
He's mostly just trying to find a real tree to give to new character Audrey, the eco-friendly girl down the road on whom he has a crush. Just in case Efron wasn't enough to pull in the tween/teen audience, Audrey is voiced by Taylor Swift.
The Lorax encompasses the spirit of Seuss' environmentally friendly fable, but though many of the lines from the book are used, it simply tries too hard. The additional characters - Ted, his family and the folk of Thneedville - help fill out the feature-length duration but they also make the story overly complicated. Not to mention the musical numbers!
It's also disappointing to see some of the core characters from the book, such as the Brown bar-ba-loots and Humming-Fish, have swapped their Seuss zaniness for "cute", possibly to look good in a Happy Meal.
If you've never read The Lorax, this is a pleasant, bright and well-animated film young kids will enjoy but Dr Seuss fans may find this contemporary adaptation doesn't have the spark of the original.
Stars: 3/5
Voices by: Zac Efron, Taylor Swift and Danny DeVito
Directors: Chris Renaud, Kyle Balda
Running time: 86 mins
Rating: G
Verdict: Pretty as a picture but lacking that magical Dr Seuss spark
Check out the trailer for The Lorax:
- TimeOut