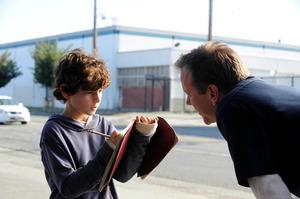 Mr Tim Kring,
What the hell was that?
Sorry to be so rude, but as the end credits of your new, uber-hyped show Touch (8.30pm, Sundays, TV3) rolled across my television screen, I sat there scratching my head and wondering whether it is you who is mad or me?
I know the first episode of Touch had something to do with cellphones. And the numbers 3, 1, and 8. I did establish that the child who keeps writing figures down on bits of paper is mute, and that the Arab one who ended up with a suicide bomb strapped to him was keen to get hold of an oven for his mother.
But there were so many things I just couldn't work out. Like why is the show called Touch when Kiefer Sutherland seems, more or less, to be playing 24's Jack Bauer again? And why did the mute kid keep climbing cellphone towers? And how was it that smartphone - the one containing photographs of the dead child and the video of that woman singing in a pub in Dublin - kept moving around the world at such speed and just happened to turn up half a world away in no time all? It was quite convenient for the plot, I admit, but terribly confusing for the viewer.
Then, of course, there was that bit where all those cellphones in the mute kid's room started ringing with the same number at the same time - ooh, spooky - and caused Jack Bauer to get all excited but didn't, despite him being an ex-journalist, make him actually answer the phones to find out who was calling. How terribly odd.
But not as curious as Jack Bauer leaving it for years (his son is 11) before he finally typed "mute plus cellphones" into Google to discover the mysterious organisation the "Teller Institute", which seems to know all about his mute son. Surely, because he appears so concerned about his boy, he'd have googled "mute plus cellphones" the first time his mute boy started mucking about with cellphones? Apparently not. I can only conclude that the reason Jack Bauer is an ex-journalist is because he is so obviously crap at basic journalism, let alone basic parenting.
Now Mr Kring, I know you specialise in writing what the pointy heads and geeks call "meta drama" - and I have to say I did enjoy the first series of Heroes. It was equally perplexing at times, if I'm honest, but at least it had a few laughs and didn't suffer from the unforgivable crime of taking itself so bloody seriously.
Not only was the first episode of Touch full of plot holes - not good for a plot rather than character-driven drama - but it was so boringly earnest too.
Perhaps your next episode will be more comprehensible, less po-faced. But I won't be holding my breath, I'll be heading for the medicine cabinet instead. Today might be Thursday and the first episode of Touch might have screened on Sunday in New Zealand (and getting a repeat on Saturday), but I've still got a headache from its awkward, confusing melange of pretentiousness supernatural tosh and sentimental drivel.
Signed,
Bewildered of Balmoral
-TimeOut