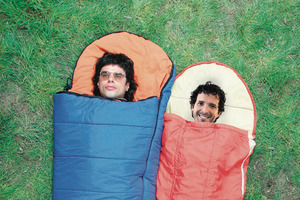 The Flight of the Conchords tour is set to gross nearly $2 million, making it a contender for the biggest local tour of all time.
According to TimeOut's analysis of the 12-date jaunt, around 28,500 people will see the musical comedy superstars - as well as a further 9000 at a charity gig in Christchurch.
So taking the average ticket price amount of $67 means the duo of Bret McKenzie and Jemaine Clement will bring in a total of $1,909,500.
The nationwide tour takes in 10 sold-out town hall-style shows around the country (in venues with capacities between 1500 and 2000), the Christchurch show at CBS Arena, and the 11,000-capacity concert at Vector Arena on July 1, which is likely to sell out this weekend when tickets go on sale to the public.
And there is the likelihood of another Vector show, or possibly even two more if demand for tickets is high.
In the past the likes of Split Enz, Shihad, the Exponents, and 50s superstar Johnny Devlin have done some extensive tours, with Crowded House also playing some big shows.
But it's Split Enz especially who are the Conchords' nearest rivals. The band played a number of large-scale outdoor shows in their late 70s and early 80s heyday, as well as four big reunion shows in 2008.
Then there was the Bic Runga, Tim Finn and Dave Dobbyn concert tour over four weeks back in 2000, which was seen by around 35,000 people nationwide.
Whatever the case, it seems the Conchords have hit the - $2 million - jackpot with this tour.
Concert promoter Stuart Clumpus confirmed there is a possibility of more Vector shows if demand dictates it.
"The public's wish is our command. So while there is a limit to what we can do, there is a little bit of time to do some other shows," he said.
The Visa pre-sale for the Vector Arena show begins today at 9am and the Ticketmaster pre-sale tomorrow at 9am. Public sales start on Saturday in person at 9am from the Vector box office and from 1pm online at Ticketmaster.co.nz.
-TimeOut