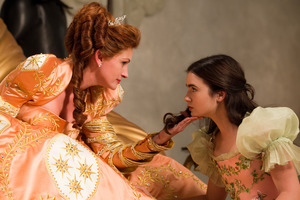 Once upon a time, Julia Roberts would have played Snow White. But now, two decades on from Pretty Woman, she's starring in Mirror Mirror as the evil queen. American's sweetheart, it seems, has gone to the dark side ...
"Yes, I did have a lot of fun, but I don't think of myself in those terms. People forget that I was a little mean in My Best Friend's Wedding."
The 44 year-old Roberts stars opposite relative newcomer Lily (daughter of Phil) Collins as Snow White, Armie Hammer (J. Edgar, The Social Network) as the prince, and comedic veteran, Nathan Lane as the queen's long-suffering servant.
In this contemporary re-telling, the queen undergoes all forms of age-defying procedures in order to seduce the prince. Ageing is a big business for women (and men) of a certain age, and the movie holds a mirror to those who struggle against this inevitable natural process.
"I think it's fantastic that the film laughs at all of this," Roberts says. "The fact the queen is so blatantly psychotically possessed by this idea of staying young, and especially in this day and age where people can just be so out-of-sync with what really is truly beautiful about them. It's always heartbreaking when you see somebody who was beautiful but didn't appreciate it to the degree that they tampered with it. It really breaks my heart.
"Obviously, I'm getting older, like everybody else. I'm at the point where you think, 'I used to be in a different place, but all right. This is interesting'. I don't worry about ageing because it's futile. It's like screaming in the wind a little bit, I think. I don't struggle with it. Maybe it's because I'm over-loved," she smiles with a wink."
Roberts has maintained her good looks. Casually chic in a white J. Brand pants suit, her signature auburn hair is long and tousled; her face relatively unlined. It seems for this Oscar-winning beauty, the ageing process has been kind.
"Well, my husband thinks I'm pretty and that feels good. My mum is beautiful. I have all my teeth," she laughs. "So far, so good."
Married since 2002 to cameraman Danny Moder, 43, whom she met on the set of The Mexican in 2000, they're raising their three children - twins Hazel and Phinnaeus (7) and Henry (4) - between California and a ranch in New Mexico.
Although she seems to have retained her sanity on the subject of ageing under Hollywood's unforgiving microscope, surely there's an element of fear from up-and-coming actresses nipping at her heels? "No. I think there's room for everybody. I'm so not competitive, I never have been, really. I have never felt that aggression towards anybody younger, or anybody my age. It's just not part of my DNA."
Speaking of competition, she is of course aware there is another movie based on Snow White, albeit much darker and edgier in tone, Snow White and the Huntsman, starring Charlize Theron, Kristen Stewart, and Chris Hemsworth, due for release in June.
"Oh, there's always another something. Movies come two by two, it seems, and this kind of thing happens on a regular basis," she quips. "The way I see it, The Huntsman has Thor, and we have Nathan Lane."
Of course, as the queen, Roberts utters the fairy tale's legendary phrase: "mirror, mirror on the wall ..." Considering her occupation, she's spent many hours in front of the mirror. How often does she see her reflection these days?
"I look in the mirror when I brush my teeth in the morning. It's usually when the sun hasn't quite risen and it's nice and dark in the bathroom," she laughs. "I've learned that one mustn't linger too long at the mirror. You have to get on with it, look at other things and just put a smile on your face."
Watch the trailer for Mirror, Mirror:
-TimeOut