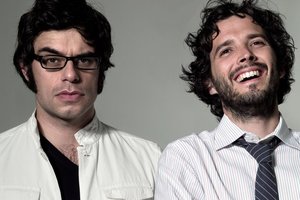 Thousands of Flight of the Conchords fans who queued in vain for tickets to the duo's homecoming tour will get the chance to do it all again.
The comedy superstars have confirmed they will stage a show at Auckland's 10,000-capacity Vector Arena on July 1.
Ticketing websites went into overdrive on Friday as tickets sold out in minutes for a string of 10 regional concerts in June.
Concert bosses say the Vector Arena show will be more high-tech than the town hall-sized concerts.
"There will be big screens and extra speakers covering the arena to ensure everyone in the room gets the full Conchords' experience," co-promoter Stuart Clumpas said.
"It's great news that we have a Kiwi act whose popularity is such that they look capable of selling out the Vector."
Joining the Conchords on their New Zealand tour is American stand-up comedian Arj Barker, known as the duo's indifferent friend Dave Mohumbhai, the pawn shop guy who gives them advice on dealing with American women and culture.
The pair, Bret McKenzie and Jemaine Clement, haven't performed here since 2009.
Tickets are available, limited to two per person, by application in person at the Vector Arena box office from 9am next Saturday, March 31, or from ticketmaster.co.nz at 1pm. For Ticketmaster subscribers and Visa members, there will be pre-sales from 9am on Thursday.
Ticket prices are believed to be comparable to those for the smaller concerts, which ranged from $55 to $79. A show in Christchurch is also thought to be in the pipeline.