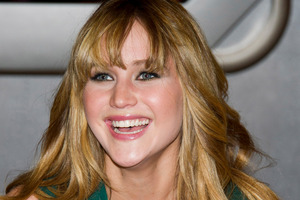 Jennifer Lawrence feels like an "idiot" when she flies first class.
The 21-year-old Hunger Games actress - who has been jetting across the globe to promote the movie - says she feels too young to be enjoying the privilege.
During an appearance on US show Late Night with Jimmy Fallon, she explained: "I always feel like an idiot every time I fly first class because I'm a kid - and I just sit there and everybody's got their newspapers and they're on the computer and I'm like, 'Can I get a colouring book please? Can I get some crayons?'"
"I had ordered a glass of wine and I was in this really intense conversation with the guys, and then she dropped off the wine, and I was like, 'Yes, because the ministry had taken over Hogwarts at the time ... thank you'."
Meanwhile the down-to-earth star admits she can't quite get to grips with her rising fame.
Talking about a billboard near her home which features her face, she told USA Today: "I was sitting at the red light just staring at the poster. I kept trying to get it to hit home. 'That's you. Feel it. Feel it'. I tried, but to no avail."
-Bang! Showbiz