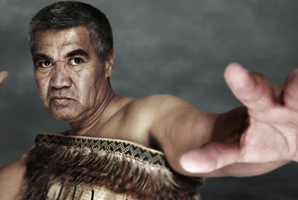 Ngakau Toa are offering a brief opportunity to experience a full Maori language Shakespeare before the show travels to London for the Globe to Globe Festival - an extraordinary event that will present all 37 of Shakespeare's plays in 37 different languages.
The production is a remarkable testimony to the transcendent quality of Shakespeare's writing that is somehow able to speak across time and culture.
By setting Troilus & Cressida amongst warring Maori tribes in the period before European contact director Rachel House not only succeeds in illuminating the themes of the play but offers a startling new perspective on Maori culture.
Far from romanticising the Maori world the production delivers a relentless critique of the warrior ethic - using satirical mockery to strip away all pretensions about the nobility of war and ending with a moving indictment of the way tribal loyalty engenders a de-humanising cycle of revenge.
Translating Shakespeare's dense poetic writing into another language is a massive undertaking and full appreciation of the play will only be available those with high level of proficiency in te reo Maori.
But those learning the language will find plenty to latch onto and the provision of a scene-by scene synopsis, along with the clarity of the staging, means it is not difficult to follow the story.
From my perspective the show presents a sharp reminder of the impoverishment of being monolingual - but rather like watching opera without the sur-titles, inability to follow the language allows for enhanced appreciation of the emotional, visual and musical aspects of the drama.
And in these areas the show delivers handsomely - James Webster and Richard Nunns' musical score highlights the emotion of the piece with great subltley. Shona Tawhiao's superb costume design makes wonderfully use of full body tattoos while taiaha and haka are used effectively throughout the production.
There is insufficient space to cover the achievements of the large cast but Rawiri Paratene anchors the show with a magnificent comic performance while Kimo Houltham and Awhina-Rose Henare-Ashby are an attractive young lovers and Matu Ngaropo gives a striking portrayal of Archilles as a petulant anti-hero.
What: The Maori Troilus & Cressida - Toroihi raua ko Kahira
Where: Town Hall Concert Chamber to March 24