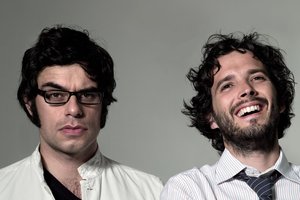 Ticketing websites went into overdrive this morning as desperate Flight of the Conchords fans tried to purchase concert tickets.
The Kiwi comedy duo has scheduled 10 dates in June, their first tour here since 2009, and today's general ticket release at midday for nine of the shows was in hot demand online.
Tickets for the Auckland show, on June 16 at the Town Hall, were being sold through The Edge, and users suffered sluggish refresh times as they tried to get hold of tickets.
Just one person in the nzherald.co.nz office managed to log on in time to get tickets, and he was only able to purchase a single seat at the back of the venue.
The website showed the message "allocation exhausted" about 20 minutes after going on sale, with similar messages showing for fans trying to get tickets to other shows.
Promoters confirmed to nzherald.co.nz that all tickets for the shows had sold out. Details for a Christchurch show are set to be announced next week.
Some fans took to Twitter to query why the band wasn't playing more shows.
"Getting Flight of the Conchords tickets is impossible. Why so few shows? Not happy :(," said Charmian Stone on the social networking site.
She might soon have reason to change her attitude. Yesterday, nzherald.co.nz supplement TimeOut started rumours of a larger Conchords show - "or shows" - potentially being announced on Sunday.
Promoter Stuart Clumpas would only say that he was investigating "options".
"We have a number of plans we're looking at seriously and they'll be announced in the next few days," he said.
But that didn't stop fans complaining about The Edge's website.
"Absolutely useless website. Please put on more shows, there is clearly a demand for it," said Andrea Morley Senn.
Suzanne Johnston agreed: "The Edge really need to update their servers! Or they should have gone through ticketek. I missed out and so did 4 of my workmates who also tried at 12 on the dot. Pretty slack."
Other fans were luckier in their ticket purchasing efforts.
"Just spent WAY too much money on flight of the conchords tickets," said Charli Prangley on Twitter.
Toni Sturkenboom: "Yusss!!! Got flight of the conchords tickets!!"
COLD CONCHORDS FANS CAMP OUT FOR TICKETS
Conchords fans also camped out overnight to get their hands on tickets to the band's upcoming New Zealand shows.
In an anti-scalping measure, 300 earlybird tickets went on sale at 8am for nine of the 10 upcoming Conchords shows, beginning in Hawkes Bay on June 13. Details for a Christchurch show are yet to be confirmed.
The tickets were available from select outlets and fans had to puchase them in person as organisers tried to beat scalpers. The rest of the tickets go on sale online at midday today, and cost between $55 and $79.
In Auckland, several hundred fans who missed out on pre-sales queued outside the Aotea Centre, many overnight.
While fans close to the front left the sales office happy, those further down the queue were disappointed the duo were not playing a larger venue or more Auckland shows.
Andrew Poh, of Te Atatu in West Auckland, claimed the first ticket this morning.
The 22-year-old had camped outside since 4.30pm yesterday to ensure he got a ticket.
Clutching his tickets in his hand, he said it was "worthwhile".
Mr Poh had spent the night playing music, games and cards, and managed to sneak in "no more than an hour" of sleep.
He said he has work later today, but his boss is understanding.
"It helps he is a fan too."
Read about the plight of other Conchords fans here and here.
A third of the way down the line, Darren Martin had been camping since 4.15am.
"I panicked last night when I saw people were already down here."
He said his attempt to get a ticket online did not go well.
"I got called into a meeting just before the tickets went on sale. It was only a short meeting but by the time the meeting finished I had missed out."
The Aucklander was "relatively" confident he would get a ticket this morning.
"Otherwise it is going to be a long day in the office."
He said the crowd had been in a "pleasant mood".
Mr Martin said he had been a fan of the band for around six years but had never seen them play live before.
At the back of the line, which snaked around a 100m around the side of the Aotea Centre, Duncan Loney was "totally lacking in confidence" he would get a ticket.
Mr Loney only arrived just before 8am, but said it was not a last minute decision.
"I wasn't going to stand in a queue for hours."
If he missed out on tickets he hoped the band would schedule another Auckland gig due to the high demand.
Behind Mr Loney, George Ashcroft was surprised by the length of the queue.
"I didn't think there would be this many people here."
The Aucklander had parked in a 30-minute car park.
"I will either have to move it ... or I might as well stay here half an hour and then go."
Tour dates:
June 13: Hawkes Bay Opera House, Hastings
June 14: Founders Theatre, Hamilton
June 16: Town Hall, Auckland
June 17: TSB Showplace, New Plymouth
June 19: Michael Fowler Centre, Wellington
June 20: Michael Fowler Centre, Wellington
June 23: Regent Theatre, Dunedin
June 24: Events Centre, Queenstown
June 27: Trafalgar Centre, Nelson
- Herald online