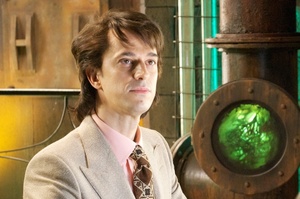 Those who watched This Is Jinsy (10.20pm, Fridays, UKTV) are probably still humming a folk song about a dog that "went licky licky" and, after ingesting something it shouldn't have, was "sicky sicky ... On my kneeeee ... Repeated-leey."
Like the Flight of the Conchords on amphetamines, creators and stars Justin Chubb and Chris Bran incorporate whimsical musical interludes into their sitcom. This particular number was aided by a stuffed dog with a tongue the length of a human leg.
Anyone who didn't watch it would do better to experience the madness first-hand than rely on a description. It might put the uninitiated off.
Jinsy is an isolated island - population 971, where the wedding lottery pairs up its unattractive residents under the crazy eye of Arbiter Maven (Chubb) and his assistant Sporal, (Bran) who occasionally turn up on the roof as a pair of seagulls.
It looks nuts, too - a combination of fuddy-duddy English decor, steampunk and 60s psychedelia. The set is either knitted, transported through the Dr Who Tardis or nicked from Antiques Roadshow.
What does this strange world tell us about our own? Well not much, unless you consider the idea of "singing obituaries", an effeminate weatherman/woman, or a tone-deaf choir as a genius way to subvert social norms. It makes more sense knowing Bran and Chubb grew up on the tiny British island of Guernsey, a place rife with eccentric and superstitious traditions.
An isolated community producing a bizarre musical comedy duo? Who'd have thought?
The first episode took a while to warm to and often felt weird for the sake of being weird. I sat there for the first half with my mouth open, not really knowing what to think.
But once you get a feel for the characters, including guest David Tennant as the flamboyant Mr Slightlyman, (Jennifer Saunders is also set to star an upcoming episode) it's hard not to be won over by its imaginative style.
Its humour is reminiscent of Monty Python, The Mighty Boosh and The Hitchhikers' Guide to the Galaxy, yet it still manages to feel new.
And with lines like "when you speak it's like words committing suicide", I can feel a cult favourite coming on.
Another favourite is Homeland (Mondays, 8.30pm, TV3), the Emmy Award-winning drama that continues to enthral. Now in its sixth week, the rollercoaster pace hasn't let up.
Carrie Mathison (the brilliant Claire Danes) is still adamant that war hero Nicholas Brody is connected to a plot against America; convinced he slipped a razorblade to a key detainee, who subsequently committed suicide.
What the show does well is illustrate the gaping grey areas in the fight against terrorism, the risky conclusion-jumping of the agents investigating suspects, the ambiguous nature of the "facts". It's also good at surprises.
Monday's first twist was Carrie's secret life as a pill-popper surfacing in her lie detector test. She might have to sleep with the polygraph guy, or at least buy him a donut.
Then another: Saul bumbled through his test. Was he stressed about his failing marriage or did he slip the razorblade? Then it was Brody's time to cheat - with his wife, and on the polygraph. This was where things got murky. Carrie had drunkenly slept with him and told him why he was having the test. Is she really that reckless?
And is he really that capable of self-control, especially after beating up his best mate? Apparently.
Next week's "sleeping with the enemy" episode sounds more like Bridget Jones than a thriller: "the relationship between Carrie and Brody becomes more complicated when they head to the countryside for the weekend". Can't wait.
Watch the trailer for This is Jinsy:
-TimeOut