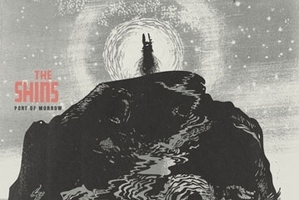 Over previous Shins albums James Mercer cultivated a persona as an aloof and reluctant frontman - albeit one with the ability to craft perfect indie-pop songs with hooks to burn.
But he's had a major attitude adjustment on Port of Morrow, the Portland-based band's fourth album and surely one of their finest.
Fronting an all-new band, Mercer sounds like he's having the time of his life, whipping through 10 effortlessly upbeat tracks that sound a world away from 2007's occasionally depressing Wincing the Night Away.
First single Simple Song is an instant classic with its jagged guitar riffs, no-verses-just-choruses policy and typically obtuse lyrics like, "My life in an upturned boat, marooned on a cliff" hitting all the right spots.
But it's far from the only standout, with the jaunty and wistful lounge-room acoustic ditty Bait and Switch, and the carnival atmosphere of the horn-drenched Fall of '82, proving Mercer is in a different headspace these days.
Some of the transformation has come from his work with Danger Mouse on side-project Broken Bells, with the loping beats of It's Only Life and breezy rock of No Way Down bearing the hallmarks of Danger Mouse's production skills.
You'll need several listens to unwind the twisted lyrical riddles of standout ballads September and 40 Mark Strasse, but it's worth investing the time - these Shins songs only get better with repeat listens.
Stars: 4/5
Verdict: Shins' frontman finds his mojo on near-classic comeback.
Buy this album here.
Watch the video for Simple Song:
-TimeOut