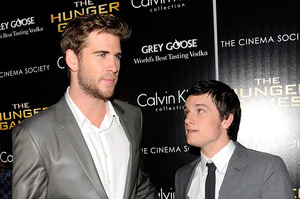 As its teen fiction-to-screen predecessor Twilight did before, The Hunger Games is about to change the lives of the two male leads, Josh Hutcherson and Liam Hemsworth.
They are two thirds of the movie's love triangle with Jennifer Lawrence, who plays the post-apocalyptic tale's heroine.
The pair are a little nervous taking over the fantasy heart-throb mantle from Rob Pattinson and Taylor Lautner.
Says Kentucky-born Hutcherson, who plays Peeta Mellark: "I try not to think about the Twilight-esque affect this movie might have. If it's successful, then we're super lucky and I'm very fortunate for that. But at the same time, there's a certain level of sacrifice you have to make, and like anything in life, there's the good and the bad.
"I know that being famous is something people wouldn't think of as a bad thing but sometimes it can be a bit much. There's really no sure way to prepare for it." He pauses.
"I guess, I'm ready as much as I can be if it does happen," he smiles. "Hopefully I'll handle it well."
As for the 22-year-old Melbourne-born Hemsworth, he's familiar with the downside of fame due to his on-again-off-again relationship with the paparazzi-plagued pop singer, Miley Cyrus. He says, "It can get a little silly but there's not much you can do about it. I'm always happy to meet fans, but as for paparazzi, they are not the coolest people in the world," he says.
"The way I see it, we choose to do this job, and so I don't want to complain. At the end of the day, I'm happiest when I'm acting and I love working. I'm the type of person who doesn't let too much bother me."
The 1.83m actor followed his older brother, Chris (Thor) to Hollywood, and scored the lead in The Last Song in 2010. All the Hemsworth siblings have appeared in various Aussie soaps including Neighbours, Home and Away, and Blue Heelers. The oldest of the trio, Luke, remains in Australia, for now.
Hutcherson's career has been steadily gaining momentum. He recently starred in Journey 2: The Mysterious Island, and earned rave reviews for his role as the sullen teenager in The Kids Are All Right, in 2010. In contrast to Hemsworth, who had a regular childhood, Hutcherson has been auditioning for movies since the age of 9 and landed his first movie in 2003 in American Splendor. His breakout role came in 2007 in the New Zealand-shot Bridge to Terabitha.
Hutcherson explains, "From the time I was about age 4 I always knew I wanted to act. My mom used to work for the airlines and once I started acting professionally, she quit so she could help me in my career. She'd come with me whenever I was on location, and for that, I'm eternally grateful."
Adapted from the best-selling trilogy written by Suzanne Collins, The Hunger Games, with an estimated budget of US$90 million ($108.9 million), is the first of a forthcoming franchise.
Out of thousands of contenders for the role of Peeta Mellark, Hutcherson hit the jackpot.
"The whole process to get this role was so nerve-wrenching because I wanted the part so bad. I was biting my nails for weeks," he says.
"Scarily, I'm a lot like Peeta," he says. "I have a very strong sense of maintaining who I am no matter what situation I'm put into, and always being true to myself. And also, we both have a self-deprecating humour."
The story is largely viewed as a cautionary tale about the spectacle of reality television.
Hemsworth says, "I think more and more kids are becoming desensitised to things that are on the internet or even things that we watch on TV like reality shows. If it keeps going the way it is, maybe we will one day watch people kill each other on TV," he says.
"That's just a horrible idea."
Watch the trailer for The Hunger Games here.
Who: Josh Hutcherson and Liam Hemsworth
What: The Hunger Games
When: Opens at cinemas today
-TimeOut