For the first time in their 44-year history, progressive rock institution Yes is soon to visit New Zealand. Founding bassist Chris Squire talked to VOLUME.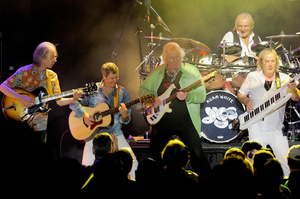 Progressive rock has often been cast as the singular inspiration for the rise of punk in the mid-1970s.
Prog's lengthy musical excursions, classical overtones, and expansive themes purportedly served all the young punks a natural-born enemy on a platter.
"For those people there was a bit too much going on, and it wasn't really rock'n'roll enough I suppose," Yes bassist Chris Squire reflects. "But rock'n'roll has many faces. And of course all the elements of musical expression tend to stay around and get rewoven into the fabric of what comes afterwards. I don't think prog rock is a dirty word."
The quintessential prog band, which visits New Zealand for the first time on 1 April, was formed by Squire and vocalist Jon Anderson in 1968. Both were active in the colourful, unrestrained cultural scene of Swinging London, but imagined an even more expansive strain of music.
Along with Pink Floyd, King Crimson, Genesis and others, Yes would be at the vanguard of a movement that sound-tracked the fuzzy fantasy world of the post-60s milieu.
"It was a very creative time, and there was a lot of use of various stimulants to fire the imagination," Squire says. "Nothing seemed that ridiculous a concept really at the time, so we just went for it."
After the mediocre reception to 1969's eponymous debut album and 1970's Time and a Word, Yes began their ascendancy with 1971's The Yes Album - the first to feature guitar virtuoso Steve Howe.
It was made on a small recording budget due to the band's tenuous relationship with Atlantic Records, but ended up charting in the United Kingdom - under peculiar circumstances.
"We were quite lucky because there was a postal strike in England when it was released," Squire notes. "There was no post for six weeks, so they took all the charts from the very first Virgin Record store in Oxford St in London. I think our manager probably went in and bought a few copies."
The band's most successful line up (also including drummer Bill Bruford) was completed when keyboard wizard Rick Wakeman joined for 1971's Fragile. Around this time they began touring outside of Europe, and discovered large audiences awaited them in North America.
Prog classic Close to the Edge, with its phantasmagorical Roger Dean cover art and lengthy multi-part opuses, saw Yes hit the UK and US Top 10 album charts in 1972.
But it was what came next that they're perhaps best known for. 1973's Tales From Topographic Oceans was an ambitious double album, a sprawling conceptual effort that came to epitomise prog's bloat to the ears of cynics.
"We were pushing the boundaries and it gave us a reputation," Squire considers. "In retrospect it was an experiment worth taking on and has probably contributed to the longevity of the band because of the fact we took a chance and people respected that."
Unlike Yes's earlier albums, Tales From Topographic Oceans was written and constructed in the studio rather than being formed beforehand.
Squire relates that the band essentially lived in London's Morgan Studios for four months in 1973, with musical parts constantly being added as the album took shape.
It was created, he admits, using a 'ramshackle approach', which no doubt contributed to Wakeman's departure from the band.
Despite the ups and downs, including the muted reception to 2011's Fly From Here album, the only member of Yes who's been there since the beginning continues to enjoy the ride.
"We've made different records in different ways, and had a whole gamut of experience of making music," Squire says. "But I still enjoy it a tremendous amount."
Yes play the Vector Arena on Sunday 1 April.