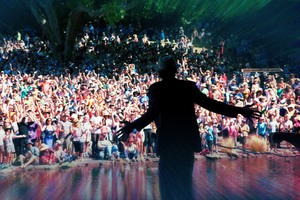 Blind Aboriginal singer Gurrumul is singing as the sun sets out by Mt Taranaki. In a striking tenor, he sets out his journey from picking guitar and learning the local songs of Elcho Island in Australia's northern territory to performing on stages in New York, LA and London.
The acclaimed singer, who never learned braille and is said to be acutely shy, has become one of the brightest lights of Aboriginal culture in his two-album career. His hour-long set is closed with the touchingly simple biography of I Was Born Blind from his album Gurrumul. "I was born blind and I don't know why. God knows why, because he loves me so."
The performance is a perfect start to the Womad Festival. It has been running in New Plymouth since 2003, bringing together hundreds of world musicians from eclectic backgrounds to perform amongst the trees, lakes and lights of Pukekura Park. The festival is defined by diversity. A strange collection of teenagers, baby boomers, aging hippies, young professionals and enthusiastic locals are here to see 40 groups from 20 countries perform. Flags designed by the visual artist Angus Watt fly on tall bamboo poles woven between shops and stages.
They are reminder that Womad is a world of its own.
The food alone could set this festival apart. A short tour of its global food village will reveal a selection of tastes as varying as the its musical line-up. Stalls selling Hare Krishna vegetarian, Terakihi wraps and Jamaican stew sit alongside those offering French, Hungarian, Malaysian and Indian food. We stopped for a smoked salmon, cheese and garlic-filled crepe before heading off to The Master Drummers of Burundi at the Brooklands Bowl mainstage.
These former royal drummers of Burundi have been touring around the world since the 1960s. They play 12-hand carved drums in perfect time, jumping and gyrating in a semi-circle as a series of dancers swirl in between them. The songs, dispersed with cheering and shouting, run for upwards of 20 minutes. There is something strangely hypnotic about watching unbroken drumming for so long. After a while, a man in front of us gets up and asks the people around him: "Do you think half an hour of drumming is enough for us?" Despite the impressive skill on display, the answer was yes.
The words "whimsy" or "whimsical" appear multiple times in the biography of 16-piece Japanese orchestra Pascals. Their music, which blends Japanese folk tunes with waltzes, Western ballads and pop, is meant to tap into our inner child. Usually that means lyrics about love and a heavy musical emphasis on ukulele. In this case it meant a large man running across the stage beating rudimentary percussion, his naked upper body clearly visible through a clear plastic poncho. He is soon joined by a flamboyant chair jumping cowpoke, who dives off stage before returning dressed as a bug, torches pinned to both sides of his head.
All this is unflappably accompanied by musicians playing strings, recorders, percussion, toy piano and trumpet. At one stage a man with a steel grinder appears on stage, sending up sparks in time with the beat of a song. At another, a pair of squeaky toys are used to keep the beat. The only somber moment in this riotous set is a call to remember the victims of the Japanese earthquake and tsunami. Then it closes it style, with the large percussionist removing the plastic wrapping covering his upper body and banging his chest in time with the closing song. A highlight of the festival so far.