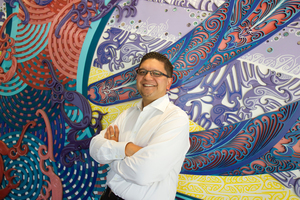 A new face has joined TV's Q&A. Yvonne Tahana talks to Shane Taurima about making the leap to mainstream
Shane Taurima knew he'd be in for some honest feedback after his debut on Q&A, a political analysis and commentary TV programme, last week.
But he didn't expect that, from those closest to him, some of it would be about his choice of clothing - not what they thought about his first-up efforts, during 15 minutes with Labour Party leader David Shearer.
"My own aunties, they rang me up and said 'oh I loved the tie', nothing about the interview," he laughed.
Experienced as a political journalist, Taurima, of Rongomaiwahine and Ngati Kahungunu extraction, is probably more widely known through his work on daily news show Te Karere, and as the host of current affairs programme Marae.
On Sunday morning when he replaced Guyon Espiner he did something few Maori journalists have achieved, he crossed over to a mainstream television format.
It makes him one of the few bilingual reporters who have worked at the top end of media titles across both language formats.
The country is yet to have a journalist in the mould of John Campbell move in the reverse direction.
But for the first time in his career the 30-something-year-old (he's cagey about his age), who started at Gisborne radio station Turanga FM at 18, did not have to deal with a specifically Maori-focused story.
The fundamentals of journalism are the same, but the new landscape gave him pause, he said. He also wondered if he'd be judged on his past work.
"I've never felt what it's like not focusing on Maori issues.
"In terms of the first show I wanted to get it under the belt, because I think there would always have been this question: Well, how is Shane going to go?
"Have we [TVNZ] made the right decision and all that type of thing. There may have been people thinking 'is he going to push the Maori angles or the Maori bloody thing?'
"I think when you've worked in Maori journalism and broadcasting for such a long time you tend to be pigeon-holed, 'oh, anything Maori, you'll look after it'. Sometimes people may overlook you for other issues ... and that's a shame I suppose. What this role is going to show is that well, actually, I'm not just a Maori journo, I'm a journo. That's going to be good."
Colleagues say he's one of the hardest working people at TVNZ and for the rest of the season he will continue to work as executive producer for Te Karere.
The relentless seven-day-a-week schedule isn't new to him though. For part of the 12-and-a-half years he was based in the political gallery in Wellington, he was also hosting the Sunday morning current affairs show Marae.
Its couch interviews with iwi leaders and politicians were intrinsic to the show when he helmed it.
Taurima's role on Q&A is to do the long form interviews.
His offsider is Paul Holmes who recently wrote a fiery and divisive column for the Weekend Herald calling for abolishment of Waitangi Day. That came off the back of ugly protest scenes at Te Tii Marae where dignitaries were called John Key's "niggers."
Holmes argued it was a "a bullshit day" full of "loony Maori fringe self-denial" where everything was addressed except "the hopeless failure of Maori to educate their children and stop them bashing their babies."
The piece hasn't come up, Taurima says.
Asked why that was the case he said as strange as it sounds, he'd never actually properly met Holmes until a few days before the show. They met in the makeup room before shooting promotional material and headed out to lunch.
Holmes is someone Taurima respects, so what did he make of the column? It takes him a minute to respond.
"I think that people took Paul's remarks personally ... his comments were perceived to be about or against all Maori.
"I didn't agree with it and I still don't agree with it and I've made that quite clear.
"At the end of the day he put pen to paper and he expressed his thoughts - that's proof of a good, robust democratic society. We should cherish that."
Taurima's parents were 16 when he was born and he is the oldest of four boys. Brought up in a two-bedroom home, his family is a close one.
His mum and dad worked around the clock to feed the family. But there was lots of love.
Taurima is gay and won't talk about his partner, saying it's not important. But he is happy to talk about his grandparents Bill and Bebe Taurima who he lived with in Napier during high school - they're the foundation of who he is and he visits often when he needs solace or guidance.
He's an unflappable type and a sharp and articulate interviewer. And while unerringly polite to guests, he still pushes them.
Labour party leader Shearer found that out in an encounter which canvassed the Ports of Auckland, foreign investment, his performance as leader, how he was going to beat Prime Minister John Key and party policies.
Pundits noted a killer line towards from Taurima at the tail end of the interview. How people perceived the PM could be summed up like this: "He came from a state house and he's good with money ... What about your one line?"
Blogs and feedback to his first Q&A performance have been largely positive, although one former colleague sent him a message that he needed to stop nodding his head when people were talking - saying it came across like he was agreeing with what Shearer was saying.
His boss, Q&A , executive producer Maryanne Ahern, reckons his warmth - Taurima does have a lovely smile - is what viewers will respond to. He is personable but it's not his defining trait. He's a pragmatic person.
"It's about being fair, it's about being balanced, having integrity.
"Obviously, it's a bit more than that but a lot of those fundamentals, it's commonsense and what we're all striving to be."