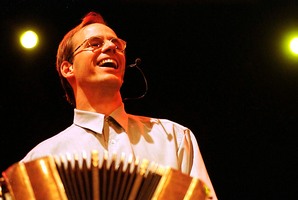 When Enrique Diemecke and Miguel Harth-Bedoya were at the helm of the Auckland Philharmonia Orchestra, Latin American repertoire was familiar and crowd-pleasing fare. In 1994 the orchestra even mounted a successful four-concert Fiesta season.
Thursday evening saw that same flame reignited with a one-off Latin Fiesta. Eckehard Stier's enthusiasm flowed from the podium while a well-filled town hall indicated that the popularity of the South American sound has not dimmed.
The orchestra dazzled us with predictable favourites, opening with a high-spirited Marquez Danzon and graduating to even wilder terrain with three dances from Ginastera's Estancia.
At times, Ginastera's livelier numbers suggested that a troupe of gauchos might be staging their own Rite of Spring, and the APO's bracing performances were offset by a delicately dissonant central dance.
One of Joaquin Turina's Danzas fantasticas was less familiar, a self-described Orgia that gave the orchestra full licence to be brilliant - which it was.
The remainder of the evening was devoted to the music of the great tango master Astor Piazzolla.
Aaron Gilmore and Nerida Cortese danced stylishly to Libertango and Oblivion, while Norwegian Per Arne Glorvigen was an assured soloist in the composer's 1979 Bandoneon Concerto, providing just the right moody lyricism to illuminate the driving tango of the first movement.
Glorvigen offered an encore, a sizzling take on Eduardo Arrolas' El Marne, the snap and crackle of which proved why a good tango band has no need of a percussionist.
The orchestra's encore came later with an invigorating Mambo from Leonard Bernstein's West Side Story.
Perhaps it is an irony that a New Yorker should be given the final word on this occasion, but there was no arguing with the blazing fury of the percussion, exultant shouts of "Mambo" from the musicians and the trumpets' glorious outbursts of Mariachi abandon.
REVIEW
What: Auckland Philharmonia Orchestra
Where: Auckland Town Hall