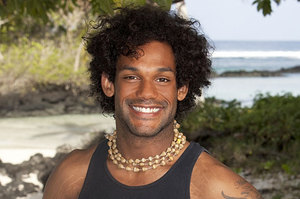 Bill Posley says his stand-up comedy career is flourishing after his controversial elimination from Survivor: One World.
The 28-year-old Californian comic was voted out of the all-male tribe Manono after tribe leader Colton Cumbie persuaded his alliance to give up their immunity and eliminate Posley.
At a vicious and bruising tribal council, Cumbie told Posley he didn't like his voice, called him "obnoxious" and told him to "get a real job" before eliminating him.
But Posley told nzherald.co.nz Cumbie looked down on him because he had lived a sheltered existance as part of a wealthy, well-respected family in a small town.
"I believe he is a classist, an elitist. I don't think he understands what it means to be a comic or to follow your dream," he said.
"He hasn't worked a day in his life, and then to belittle me for what I want to do? That's hypocritical."
Posley said Cumbie was playing the game to make a name for himself as a Survivor "villain" - like Russell Hantz in previous seasons - but his accusations were based on inexperience and ignorance.
"I don't think he realises what it means to be in the public eye, what it means to say something and how that can affect people.
"He doesn't understand what it's like to be picked on, ridiculed or persecuted. He doesn't have the empathy for other people that somebody like or me or a guy like Leif (Manson, Survivor's first little person) has because we have been picked on our whole lives."
Posley, the fourth person to leave the latest season of the reality show, said his phone hadn't stopped ringing since his elimination episode had aired in the US.
"I'm not the biggest comic in the world or anything, but people are willing to give me chances where they weren't willing to give them to me before," he said.
"I'm starting to put a little tour together for myself which is something I've wanted to do for a long time. I'm getting into some clubs that I wasn't earlier."
Posley admitted he would use his tense spat with Cumbie as material for his live show.
"It's funny no matter how you look at it. I will definitely be using it in my set. I use any part of my life for my comedy."
Watch highlights from Posley's last episode:
* Survivor: One World screens on Four on Sunday nights. nzherald.co.nz will interview every contestant as they are eliminated.