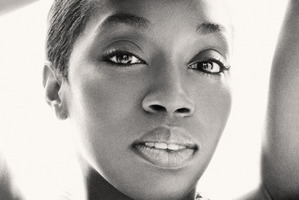 There aren't too many women that can hold their own with Kanye West, but when 32-year-old British R&B star Estelle sang with West on American Boy from her third album Shine in 2008, she came away with a hit.
She still has that same sly sense of humour, and genuine delivery on much of All of Me, but though there are some excellent tracks here, there's also a few that feel a little lazy.
Opener The Life has her rhyming and spitting with style that would rival MIA or Missy Elliott, while International (Serious) featuring Chris Brown and Trey Songz, with its reggae inspirations and deep bass groove, has a youthful punch that rivals Rihanna.
Early single Thank You is a classic ballad, even with a few cliches thrown in, and Back to Love is one of the best club anthems since Robyn's Indestructible. Actually it's better, with its Coldplay-esque string section and dramatic chord progressions.
Speak Ya Mind has a catchy snap, and some great horn and double basslines, while Do My Thing featuring little firecracker Janelle Monae, is a true highlight, with the same wow factor as Monae's break out hit Tightrope, and that kind of irresistible toe-tapping beat that Outkast did so well.
Unfortunately the generic R&B cheese on tracks like Cold Crush and Break My Heart (questionably featuring Rick Ross) take this album from outstanding, to merely solid.
Stars: 3.5/5
Verdict: Some outstanding tracks mixed with some average tunes
-TImeOut