The creators and stars of comedy series This Is Jinsy tell Scott Kara how their home of Guernsey has added to the fruitiness of the their madcap show.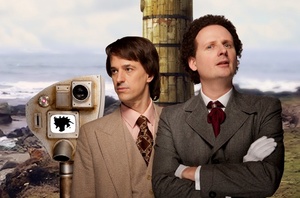 There is a stony silence when TimeOut tells Chris Bran and Justin Chubb, the creators of bizarre British TV series This is Jinsy, that we have watched the first episode of the show.
Then, almost simultaneously, they joke: "Are you alright?"
And they kind of have a point, because it's absolutely barking.
"It is quite mad and starts to make sense when you watch all eight episodes I think. So there is a logic behind the madness," says Chubb.
"I think by episode three," adds Bran, "you probably start finding your way around the characters and the concept a little easier and it doesn't seem quite so loony perhaps."
Set on a fictional island - though Bran and Chubb have taken inspiration from their home of Guernsey in the English Channel - the comedy series revolves around its oddball inhabitants and the adventures of Arbiter Maven (played by Chubb) and his assistant Sporall (Bran) who are charged with upholding the wishes of The Great He, the at-large overlord of Jinsy.
It's a mix of sitcom and sketch show, with some mad musical numbers thrown in, and comes across like a combination of The Mighty Boosh, Monty Python, and The Goodies all rolled into one. And there is even some Dr Seuss magic in there too.
But it's made with a DIY ethic - or "hand-made" as the pair put it - right down to the fact Chubb and Bran write and play the lead roles as well as many other characters (including a pair of talking seagulls).
"We grew up in Guernsey which is a very tiny island nearer France but it's still got a lot of British character. I think that whole [growing] up on a little island makes up part of our personality and that comes out in the show really," says Bran.
And no, there haven't been any raised eyebrows or bricks through windows from disgruntled island folk, because the pair were careful not to base their characters on anyone specific.
"We've taken a few of the customs and then written stories around the customs," says Bran.
Customs - or perhaps quirks is a better word - like the Clameur de Haro, whereby you can stop something from happening by kneeling down and reciting the Lord's Prayer backwards in Guernsey French.
"So basically," laughs Chubb, "if you come home and someone was chopping down some trees on your property then you could raise the Clameur de Haro and the work would have to stop. It's strange there."
"It still happens today, and we took the name of that and subverted it to use as a little idea in one of the stories," says Bran.
The series has attracted many big-name British guest stars including Jennifer Saunders and David Tennant, the former Doctor Who and star of recent mini-series Single Father who plays camp and over-the-top wedding lottery presenter Mr Slightlyman in the first episode.
Be warned, This is Jinsy is one fruity and eccentric show.
What: This is Jinsy, British TV series like The Mighty Boosh meets Monty Python made by Chris Bran and Justin Chubb
Where and when: UKTV, Fridays, 10.30pm
-TimeOut