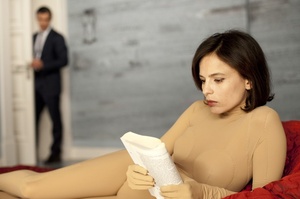 Utterly exhilarating and outrageously audacious, the new film by the Spanish maestro Almodovar is assembled with the precision of a Swiss watch and has almost as many moving parts.
Part post-Hitchcockian existential thriller, part mad-scientist horror movie, it's possibly his most straightforwardly entertaining film ever and a triumphant new collaboration with Antonio Banderas who starred in the director's first films in the 1980s.
Banderas plays a seriously nasty piece of work here, an esteemed plastic surgeon called Robert Ledgard who has, with no great regard for ethical niceties, concluded years of research by creating a synthetic skin that is better than the real thing.
We know from the beginning that this invention has something to do with a woman called Vera (Anaya), who is held in what may be isolation or captivity in Ledgard's luxurious gated mansion. We know also that the motivation for his Frankenstein search was the hideous disfigurement of his wife in a fire.
It takes us a long time to understand how these two things are related and why Vera has ended up where she has. Almodovar, who scatters tantalising clues everywhere, has a wonderful time letting us think that we have the measure of the story before turning it inside out to dazzling effect.
Much of that's down to some ferociously ingenious plotting in which the "six years earlier" device is not a glib narrative problem-solver but a wrinkle in the story that is all of a piece with it. As the last bit of the puzzle slots into place you can almost hear the film-maker's cackle of delight.
Almodovar lets his exquisite aesthetic instincts have free rein too, and as usual the distinction between style and substance is beautifully blurred. Key moments of the action (including - be warned - a graphic rape scene) are delivered as surveillance-camera images, some monstrously enlarged, but it's more than simply a visual device.
This is, as much as anything, a film about watching, and we gradually come to understand the title's hint: that skin-deep appearances can be very deceptive indeed.
This is not an easy film - in sharp contrast to the director's recent women-centred output, it's positively chilly - but it's a hell of a ride.
Stars: 4.5/5
Cast: Antonio Banderas, Elena Anaya, Marisa Paredes, Jan Cornet
Director: Pedro Almodovar
Running time: 121 mins
Rating: R16 (violence, sexual violence, sex scenes) In Spanish with English subtitles
Verdict: Outrageously entertaining
-TimeOut