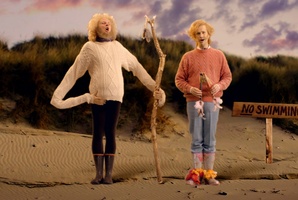 MUSIC
It's the Taylor Swift weekend at Vector but folks who like their American singer-songwriters with a bit less, well, show should head along instead to Eilen Jewell (pictured right) at the Powerstation on Saturday.
The LA-based Jewell brings with her a songbook drawing on half a dozen studio albums - one a Loretta Lynn covers set - and a voice and and a retro rootsy style that makes her last album, Queen of the Minor Key, well named.
Then there's songstress St Vincent - aka Annie Clarke - bringing her dreamy artpop to the Kings Arms on Sunday. And tonight, of course, is the return of 90s Irish band The Cranberries at Trusts Stadium, where many in attendance will be celebrating St Patrick's Day a little early.
I saw the Cranberries twice at their previous Auckland shows back in their heyday. Well, the Herald files say I did. Just can't seem to remember anything about those shows.
Ah well, hopefully the band's extended hiatus has given them a second wind as a live act.
Altogether now: "Zombie zombie zombie / Hey, hey, hey, hey, oh, oh, oh / Oh, oh, oh, oh ..."
MOVIES
It's a strange bag of flicks starting today - top of the pile is Pedro Almodovar's The Skin I Live In in which the veteran Spanish director seems to have looked at the new wave of Spanish horror films of recent years and thought it was about time he made his own with a nip/tuck Frankenstein story.
For classical buffs, there's the doco In Search of Haydn which contemplates the age old question: Papa Haydn's dead and gone, but why does his memory linger on? Meanwhile at the multiplexes, Nicolas Cage is on fire - literally, his skull quite often goes up in flames - in supernatural superhero sequel Ghost Rider: Spirit of Vengeance.
TELEVISION
"The strangest thing you're likely to see on television this week is new British comedy series This is Jinsy, a show which is set in an even little-er Britain - the fictitious Channel Island of the title where the locals are a little odd. It comes across as a combination of The Mighty Boosh, Monty Python, and The Goodies all rolled into one. And yes, that is a recommendation, of sorts.
Also threatening to make couch life interesting this week is the new series of London police drama Whitechapel (TV One, 9.30pm tomorrow night), as well as documentaries The Lost Airmen of Buchenwald (Prime, Sunday 8.45pm) about Allied air crew who were prisoners of war in the infamous concentration camp, and Songs from the Inside (Maori TV, Sunday 8pm) - the first in a series which follows musicians Anika Moa, Maisey Rika, Warren Maxwell and Ruia Aperahama into Rimutaka and Arohata prisons where they work with inmates to write, sing and record their own songs.
OR...
While there were some pretty wild media estimates of the numbers who turned out to see the Volvo Ocean Race come in last weekend, there were only a dozen of us at the little park on Stanley Point watching Camper come fourth.
Anyway, it's a big weekend on the Waitemata with the In-Port Race on Saturday afternoon and the Leg 5 start on Sunday. And Sunday is the Round the Bays run, which is sponsored by everyone's favourite ratepayer-owned enterprise, the Ports of Auckland.
-TimeOut