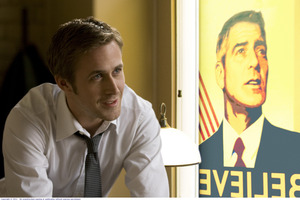 Hollywood actor Ryan Gosling was everywhere yesterday - Britomart, swanky Auckland restaurants, and Texas.
However, a worker at Ponsonby's SPQR restaurant, haunt of the country's faux fashionable, was adamant the Ides of March, Drive and The Notebook star was definitely in town.
A radio station tweeted rumours the star was out and about in the early afternoon. That set off a flurry of twitpics, a Where's Wally sendup and bogus sightings: Gosling outside Hobson St diner Denny's, supporting Auckland port workers, etc.
Designer store World lent credibility to the rumours when its Britomart staff tweeted that he was instore.
World director Benny Castles said the message had been sent without head office approval, but he did nothing to dampen the fire.
"It was a maybe a false early step, because basically our rule across the board is we never confirm or deny who our customers are when they shop with us ... Given this is quite an exceptional circumstance, a celebrity-type person, I still wouldn't want to ...
confirm with you anyone's whereabouts."
Still, SPQR bartender Hemi Wipiiti maintained Gosling had a lazy two-hour lunch eating the scampi linguine.
"I didn't really know who he was, I just served him.
"He was a little charming [and] old-style handsome."
At the same time all this was happening, the actor was spotted in Austin, Texas. Also on Twitter.
Recently, Gosling has been making a movie in Thailand, and his actress girlfriend Eva Mendes has reportedly visited. His representatives were not contactable yesterday.
A visit is not out of the question as Gosling lived in Auckland in the 1990s, when he was in the spin-off Young Hercules.
At the weekend, Britain's Daily Mail newspaper claimed he had been in South Africa with a German model.
After the flurry died down TV3 entertainment reporter David Farrier reckoned: "Remember: whenever a radio station or Twitter says an American celebrity has been spotted in Auckland he has NOT been spotted in Auckland."