Psychedelic spacemen Wooden Shjips have a prevailing fascination with the West Coast of the United States. Frontman Ripley Johnson talks to VOLUME before their New Zealand shows.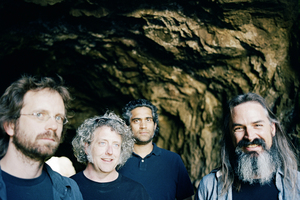 The global financial meltdown has proven disastrous for many, but for Ripley Johnson it's been beneficial.
Losing one's job isn't normally a good thing, but for the Wooden Shjips guitarist it forced his hand and made the band his primary focus.
"It's really changed my life," Johnson considers. "I just decided to make a go of it. I'd been working in office jobs for many years, so it was quite a lifestyle change. It's been pretty exciting. Very freeing. It was probably the best thing that ever happened to me."
The East Coast native had moved to San Francisco in search of a mythic Californian culture that encompassed Beat literature and the 1960s psychedelic revolution of the Haight-Ashbury. No wonder their 2011 third album was entitled West, and featured the Golden Gate Bridge on the cover.
Johnson says none of the four members of Wooden Shjips are from the West Coast, and that has an influence on how they view their adopted home.
"You have this idea of the West Coast and the Bay Area in particular that you get from music and literature," he says. "You carry that with you and it does influence you to an extent. It's not necessarily palpable when you're in the city itself, but if you're a music-obsessive like I am or really into literature you just pick that up from some of your favourite artists."
West, along with 2007's Wooden Shjips, 2009's Dos, and two compilations of singles, resonates with the spirit of liberation that has drawn generations of people to California.
Shades of narcotic English droners Spacemen 3 and Loop are recognisable, as well as the more obvious Velvet Underground, Hawkwind and various Krautrockers.
Wooden Shjips' specific blend of space rock, psychedelia and Motorik rhythms was born out of a period where Johnson played with a group of non-musicians.
"The idea was to do really primitive improvisational rock," he remembers. "The problem was because no one except for myself was really a committed musician, no one had instruments or any desire to play live shows. Eventually it fell apart. But [with keyboardist Nash Whalen, bassist Dusty Jermier, and drummer Omar Ahsanuddin] we sort of kept doing the same thing but with more committed musicians."
And so Wooden Shjips was officially born in 2006, and has carved a unique route through rock music over the next half decade.
Everything previous to West was recorded by the band in their practice room on eight-track reel-to-reel tape. This archaic though somewhat fitting method captured Wooden Shjips early charm.
Johnson says the limitations of that approach helped the band refine their aesthetic.
"It was very limited sonically," he says. "But that was good for us I think; it allowed us to approach the music in a certain way and have our own process that tended to be really drawn out. We didn't have resources so you work with what you have: you're forced to confront your limitations and work within that."
However, for West Wooden Shjips ventured into a San Francisco commercial studio, where their audio engineer friend Phil Manley helped guide proceedings over an intense six-day period of recording and mixing.
Although Johnson is satisfied with the result, he thinks the band may revert to type for the next one.
"It changed our approach completely," he says of recording in a studio. "I was pretty happy with the ways it turned out, but we could have gone in there and come out with nothing. We may go back into a proper studio again, but I wouldn't mind having a go at it ourselves one more time and take some more time with it. I'm a big Exile on Main Street fan, so I have dreams of hanging around and recording for months which is probably not very reasonable."
* Wooden Shjips plays at Kings Arms in Auckland on Sunday 1 April and Bodega in Wellington on Monday 2 April.