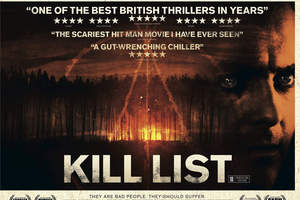 If you like your hitman films to come with a twist, Kill List is for you.
That's because the British thriller starts off in one direction, but ends up being something completely different by the end.
Directed by Down Terrace's Ben Wheatley, the film follows two men working their way through a "kill list" - knocking off men who seemingly deserve it, Dexter style.
But things start to get weird when former solder Jay (Neil Maskell) starts dishing out his own particularly violent brand of punishment, getting more and more unhinged before one last job sends him and his partner Gal (Michael Smiley) over the edge.
You won't be able to predict the ending - but it's unlikely David Lynch could predict, or explain, what happens in the last half hour either.
It sure is one heck of a white-knuckle thrill ride, and one that's worth hanging around fo.
Extras: A fairly comprehensive package with several commentaries, a making-of feature, interviews with the actors and the film's trailer.
Rating: 4/5
- Herald online