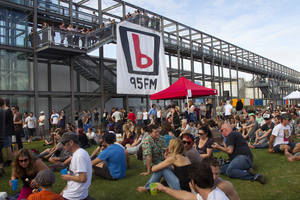 Music, food and most importantly, no liquor bans. Despite an unusual location change this year, the gods of free musical goodness at bFM have delivered once again.
The bFM Summer Series Festival has become a traditional end to Orientation week for Auckland students (and those who remain students at heart). This time, the annual event moved away from its traditional Albert Park venue to the buzzing Silo Park in Wynyard Quarter.
Many concert-goers, myself included, had never been to Silo Park. This mythical land of grass, sea and large concrete cylinders luckily turned out to be only a five-minute walk from the ferry terminal.
As an avid Albert Park enthusiast I was sceptical about the venue change but my fears were unfounded. The atmosphere and setting next to the sea was unique and compelling. While Silo Park was missing a few old comforts of the former venue - trees, extensive grass, homeless people - it had a much more professional feel.
Despite the alcoholic nature of the event (it remained a downlow 'BYO' event) and the cheap wine bottles turning up all over the place, the day was very peaceful. The large but relaxed security presence resulted in a controlled and enjoyable environment.
This meant that, for better or worse, toddlers and 14-year-old girls could frolic around the chequered-shirt hipsters without any fear.
Dunedin boys Die! Die! Die! and Auckland garage-rockers The Checks were the big draw cards in the line-up and provided a great show. Die! Die! Die's energy and gritty performance strongly reflected their electric sound. Their set was downright sexy and the band's large fan base only seems to grow with their live sets.
At the end of the day The Checks turned out for their many sunburnt fans. Performing their new songs, the band showed that they are not afraid to progress and venture into new territory. The songs from their new album, Deadly Summer Sway, had funky undertones that brought a jazzy vibe into their performance.
Old favourites such as Ballroom Baby and What You Heard were also well-received by those familiar with the band. These guys are still amazing to watch live - Ed Knowles' vocal range is as impressive as his raw energy, leaping all over the stage and grabbing onto the bFM's marquee's tent railings. This remains a band that can charm anyone.
But for me the highlight of the day lay in the first act, Princess Chelsea. This is a self-titled project by former Brunettes' member Chelsea Nikkel, with musical support by her friends.
In what can only be described as the result of a Disney princess's reproduction with a spaced out zombie, her music is like a dreamy yet disturbing lullaby. Touches of xylophone and keyboard melodies interweave throughout songs like Cigarette Duet and Ice Reign.
It is a simplistic style, but works effectively for Nikkel. The only problem was the due to the midday time-slot not enough people saw the performance. Here's hoping for a later start next year for the hungover crowds.
What: 95bFM Summer Series
Where: Silo Park, Auckland
When: Saturday, March 10