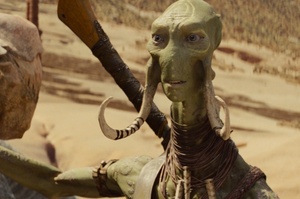 It's perhaps not the biggest problem of the many in this long, dull retro sci-fi fantasy, the first proper film about Edgar Rice Burroughs' second most famous character after Tarzan.
But it's an amusing one. It's this: When John Carter, former Confederate soldier gets astral-projected from the old West on to Mars, he meets a tribe of tall, green, four-armed tusked warriors called "Tharks". They are played via motion capture, by Willem Dafoe, Thomas Hayden Church and Samantha Morton among others.
Voices aside, it's really really hard to tell them apart. So you can often be left wondering: Who the Thark is that? Which at least makes a nice change from pondering: Why did they make this? Sure, John Carter of Mars, a pulp series which Burroughs started in 1912, was influential - even the prototype for Princess Leia's intergalactic bikini is to be seen on Martian Princess Dejah here.
But John Carter the movie is Prince of Persia on another planet. Its action quotient is low, its visual effects underwhelming and it's just one Queen theme tune short of falling into Flash Gordon camp.
True, those Tharks are pretty funny. They keep calling Carter "Virginia" because of where he's from. But that's it for light relief.
The real battle of Barsoom is between the Heliumites and the Zodangans. The only chance at peace is a marriage between brainy beauty Helium Princess Dejah (Collins, wooden) and dastardly Zodangan leader Sab Than (West, miscast). Enter Earthman Carter as romantic rival and superhero, due to the low Martian gravity.
But while Kitsch sure is as pretty as any movie Tarzan, it's hard to care about Carter or his confused quest.
The first live action/CGI film for Pixar animator Andrew Stanton, this follows the director's wonderful Wall-E, which made a hero to believe in out of a robot. By comparison, the John Carter of John Carter just seems like a cartoon character.
Stars: 2/5
Cast: Taylor Kitsch, Lynn Collins, Dominic West
Director: Andrew Stanton
Rating: M (violence)
Running time: 132 mins
Verdict: Spent time on Pandora, Tatooine or Vulcan? Then prepare to be underwhelmed by Barsoom
-TimeOut