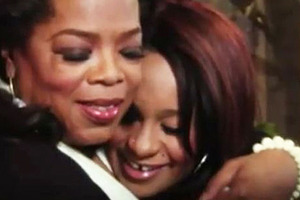 Talk show host Oprah Winfrey hugged Bobbi Houston when she broke down while talking about her mother's death.
Bobbi talked to the chat show host for the first time about the passing of her mother on February 11 - after allegedly ingesting a cocktail of prescription drugs and alcohol - and was hugged and comforted when she got upset.
Oprah, a close family friend, describes Bobbi as "the love of Whitney's life" as she holds her on Oprah's Next Chapter.
According to TMZ.com, Bobbi, 19, told friends: "Oprah was loyal to my mum, and never did my mother wrong, or made her look bad. She always looked out for my mum."
After she heard the news of her mother's death, Bobbi - the only child of the Saving all my Love for You singer and ex-husband Bobby Brown - was so upset and shocked she had to be rushed to hospital twice within 12 hours.
In a preview clip of the show, Oprah says of Whitney: "The world lost an icon, they lost a mother and a sister."
The host also talks to Whitney's brother Gary Houston and his wife Patricia, one of singer's closest confidants.
She asks them: "Does it feel real yet that she's gone?"
Whitney - who suffered from drug and alcohol problems during her life - famously opened up to Oprah in a tell-all 2009 interview, calling Bobby - who at that point she had divorced - her "drug".
The My Love Is Your Love singer also publicly admitted she had abused "rock cocaine" and marijuana.
Oprah's Next Chapter airs in the US on Sunday, March 11 at 9pm.
- Bang! Showbiz