Saturday 15 February 1997 - Dirty Three's Warren Ellis is a bloody mess. The band has just finished playing a stunning set at a club called Luna on Symonds Street in Auckland. Ellis' hand is bleeding after a close encounter with bandmate Mick Turner's guitar. Ellis' playing was so frenzied that he lost track of where he was. And next week, the band will again put their bodies on the line.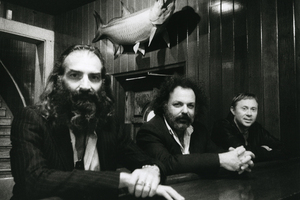 "I remember that!" Ellis says down the line from his home in Paris. "I've still got a really big scar from that."
Apparently that wasn't the only damage Ellis inflicted on himself back then in New Zealand.
"I decided to go swimming and surfing and ended up in an ambulance having to go to hospital because I got thrown and then ground into the bottom of the sea. They thought my neck had been broken. That was a wild show, that one."
Monday 1 February 2010 - Dirty Three are back in Auckland, this time playing at the inaugural Laneway Festival at Britomart Square. Again, the grim reaper makes another attempt on the band.
"Our mixer was nearly killed, poisoned by a chicken. He thought he was gonna die. He's lived one of the wildest lives of anyone I know, and then to have it all brought down by a piece of chicken would have been funny."
Fortunately the technician survived. And Ellis has more pleasant memories of that show.
"I met Shayne Carter from Straitjacket Fits, which was a real treat for me.
I really loved that band; I used to see them a lot. I saw Shayne again at the Big Day Out in the rain. I remember his face in the rain there."
Ellis was playing with Nick Cave in Grinderman at the Big Day Out in January 2011. The band has since dissolved. When asked what happened, Ellis sounds genuinely confused.
"I've got no idea what happened. I'm still trying to get answers. The drummer went off his medication and we're picking up the pieces. I don't actually know what's going on. "
Dirty Three (guitarist Mick Turner, drummer Jim White and violin player Warren Ellis) is returning to Auckland with a new album, Toward the Low Sun, about to be released. It's the trio's first since 2005's Cinder. That record found the mostly-instrumental act working with vocalists such as Cat Power and Sally Timms (of The Mekons) and more structured songs. The new record is a move back to improvisational playing.
"The last album before this was certainly more organised. We tried to record this album a couple of times and it just wasn't ready for various reasons. Every time we tried the material wouldn't sound inspired. We've never wanted to put anything out that we didn't feel proud of. I guess we just had to wait for it to present itself."
Although they are originally from Melbourne, the three band members now each live on separate continents.
"I think the last time we lived in the same city, we nearly killed each other," admits Ellis.
In the intervening seven years since Cinder the three musicians have had plenty to keep them busy, together and apart. All of that creativity finds its way into Dirty Three's music.
"I just finished a documentary with Peter Jackson on the West Memphis Three. Going something like that's a very different thing, but it's all grist for the mill. The last thing you do informs the thing you're about to go to and it doesn't really matter what it is. It's all related in a way, whether I've just done a film or a Grinderman tour or a Dirty Three album, it takes you to a different spot. It means that the thing you go to next is going to be in a different spot as well. The great thing about Dirty Three is that between the last album and this album Jim and myself have played on 20 albums. I've made something like five soundtracks. Mick's made a couple of solo albums and a couple of exhibitions of paintings so there's been lots of creative things going on. It feels good to be able to have branched out and do different things.
Warren Ellis is looking forward to Dirty Three's show at The Powerstation with some trepidation.
"I hope there's no blood this time. At least I hope it's not mine."
*Dirty Three play The Powerstation in Auckland on Wednesday 14 March.