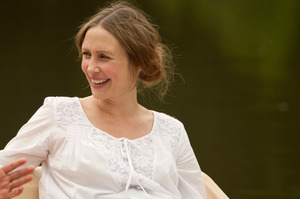 The debut as director by Farmiga, whose electric-blue eyes lit up leading-lady roles in The Departed and Up in the Air, is a bold and beautifully contained depiction of a woman going through a crisis of faith, which gracefully sidesteps both cliche and condescension.
In examining a key element of American culture, it maintains affection for all its characters, members of a fundamentalist Christian congregation in an unspecified part of the heartland. They have an old-fashioned view of sex roles (the women don't preach; they listen and they're encouraged not to dress in a way that might "make a brother stumble"), but they're not prudes: "Clitoral stimulation is part of God's plan," the pastor unblinkingly tells a men's meeting.
At no point does the film yield to the temptation to make fun of its subjects (there are some hilarious moments, but they're not unkind); their unwavering faith is taken as read. The drama resides in the struggle of Corinne (Farmiga herself, as good as ever in a warm and empathetic performance rich in ambivalence and anguish) to make sense of her unbidden doubt.
Co-written by Carolyn Briggs, the author of the source memoir This Dark World: A Memoir of Salvation Found and Lost, the screenplay stakes out Corinne's early life with what initially feels like economy and precision but becomes a bit forced: the girl child who grows up amid domestic discord and, with slight bemusement, gives herself to Jesus, becomes the teenager (played by Farmiga's own teen sister) who falls for a rock musician.
All the time, she will later tell us, Jesus was knocking at the door of her heart, but her adult piety seems driven by habit and a sense of conformity, and as doubt tugs at her sleeve over the years, it starts to fray and unravel.
From such unassuming material Farmiga has woven a smart and profoundly humane drama, alive to the moral complexities at its heart. The film's not interested in whether Jesus saves; its business is the same as any movie's - what humans do when they're under pressure - and it's riveting.
Stars: 4/5
Cast: Vera Farmiga, Joshua Leonard, Norbert Leo Butz, Dagmara Dominczyk
Director: Vera Farmiga
Running time: 111 mins
Rating: M (offensive language, sexual references)
Verdict: The agony of doubt
-TimeOut