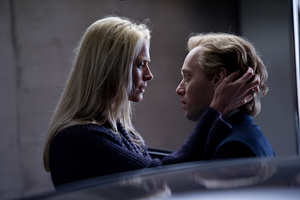 Norwegian writer Jo Nesbo, who arrives this month on an author tour, is nauseatingly versatile: at one time or other he's been an economist, a stockbroker, premier league footballer and a guitarist in a rock band. He's written three kids' books and his nine crime thrillers about Detective Harry Hole of the Oslo Crime Squad prompted the literary editor of The Independent to describe him as "the next Stieg Larsson" - a comparison the author, incidentally, dismisses as "corny".
Certainly this film version of one of his novels not in the Harry Hole series does not put you in mind of the Lisbeth Salander movies. It's a well-wrought thriller but it lacks the single-minded narrative thrust of those films and it is such a dizzying mash-up of style that it verges on pastiche. The fact that there is Tarantinoesque violence and a scene involving voluntary submersion in a long-drop dunny should warn you that an appetite for genre-bending is definitely called for.
The central character Roger Brown (Hennie) is a headhunter (in the recruitment sense) with a bad case of small-man insecurity not helped by the fact that his beautiful wife Diana (Lund) is long, leggy and widely lusted after.
His attempts to hold on to her include buying her a swanky art gallery and an even swankier house, which he finances by moonlighting in art theft - the way he selects his victims is both intriguing and super-smooth - but he's on the verge of bankruptcy.
When he becomes aware of a privately-owned Rubens he thinks he's found the opportunity for salvation but the painting's owner Clas Greve (Coster-Waldau), has eyes for Diana and Roger soon finds he's bitten off more than he can chew.
To be honest, the film's myriad plot twists - some of which brush plausibility aside - and abrupt changes of tone left me a little confused at times about what was going on. But that is rather the point. Certainly there's more style here than in a Scandinavian furniture store. It just may not be to all tastes.
Stars: 3.5/5
Cast: Aksel Hennie, Julie R. Olgaard, Synnove Macody Lund, Nikolaj Coster-Waldau
Director: Morten Tyldum
Running time: 96 mins
Rating: R16 (violence, sex scenes) In Norwegian with English subtitles
Verdict: Nordic pastiche
-TimeOut