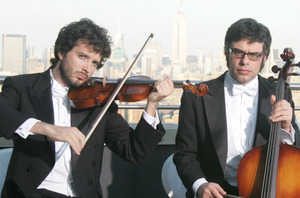 It will be a triumphant arena-sized return to the live stage for Flight of the Conchords when they tour New Zealand in the middle of the year.
Though details are still under wraps, the duo of Bret McKenzie and Jemaine Clement are tipped to play Vector Arena in Auckland, and at least one other show in Wellington.
It's been rumoured the Hollywood stars would be playing a string of small venues on the tour, but given their popularity a large scale venue such as the 12,500 capacity Vector is more likely.
Though the tour promoter did not want to reveal any details until the official announcement in a few weeks, an industry insider said considering the number of people who wanted to see them an arena show would be on the cards.
"They don't have the time to play the Town Hall in Te Kuiti, as much as they'd quite like to I'm sure," he said.
However, he said the promoter had to consider the spread of the audience, especially in their "hometown" of Wellington, and they can't just play a show in Auckland.
"There is no question that, from a New Zealand perspective, Flight of the Conchords appeal to everyone, so it's just a case of getting the right balance."
The pair's schedule is hectic this year with Clement starring in en in Black III as well as the animated TV series Napoleon Dynamite, and McKenzie in a number of films including The Hobbit and as Nige in local comedy Two Little Boys. Two Little Boys was due to come out this month but has been bumped until the end of the year, possibly to make room in his schedule for the tour.
McKenzie, who won best original song for Muppets song Man or Muppet at the Oscars last month, recently revealed plans for the tour to Billboard magazine.
"We're about to tour Australia and New Zealand. We haven't toured there in years," he said.
The last time they played here was a fundraiser in March, 2009, for Masterton's Makoura College, Clement's former high school. The 2000 tickets sold out in 90 minutes.
Before that they performed a free show in February, 2008, at the Aro St Video shop in Wellington to celebrate winning the best comedy album Grammy for The Distant Future.
In 2010, off the back of the success of their TV series, the Conchords played the 17,000-capacity Hollywood Bowl in Los Angeles, and in Europe the pair had to add extra dates in both London and Manchester, including a sell-out show at the 12,500 capacity Wembley Arena.
-TimeOut