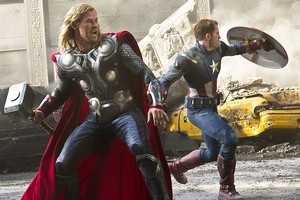 From a new look at the hyped Avengers film to a viral video for Prometheus and a fresh look at John Carter, movie fans have had a good week.
This week's biggest trailer release is The Avengers with two minutes of new footage that gives away more character developments and plot secrets than those first initial grabs.
Directed by Joss Whedon, and starring a who's-who list of graphic novel favourites, the latest trailer proves The Avengers is shaping up to be the year's biggest blockbuster.
Stick around for the end too, when Robert Downey Jr's Iron Man is chased down by a gigantic flying robot monster that will have anyone involved in the Transformers films going green with envy.
The Avengers is due out in New Zealand on April 25.
Watch the new, full-length trailer for The Avengers:
Sci-fi fans have been foaming at the mouth over Ridley Scott's Alien prequel Prometheus, and a new viral video won't do much to change that.
The three-minute clip shows Guy Pearce playing Peter Weyland - the head of the Weyland Corporation that kept cropping up in the Alien films - making a speech about the future of the company.
It ends with the immortal line: "My name is Peter Weyland, and if you'll indulge me, I'd like to change the world."
Prometheus is due out in New Zealand on June 7.
Watch the viral video for Prometheus:
Here's a new trailer for sci-fi western John Carter, a genre-mixing film so ridiculous and over-the-top, it might actually work.
Just check out that final fight scene between the main character and a giant bear-like monster that ends with a building-sized boulder to the skull.
If that's in the trailer, what's going to be in the film?
John Carter is due out on March 8.
Check out the new trailer for John Carter:
Finally, check out the first trailer for Neighbourhood Watch, a new comedy starring Ben Stiller, Vince Vaughn, Jonah Hill and - bizarrely - The IT Crowd's Richard Ayoade as an out-of-control neighbourhood watch patrol.
Neighbourhood Watch is due out on November 20.
- Herald online