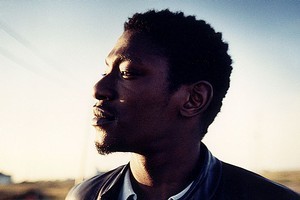 It's not often that punters at a hip-hop show get told they're "naughty" for forgetting to vote in the last election.
And it's even rarer for the star of the night to shuffle onto the stage of a hot and sweaty venue wearing white jeans, a dress shirt, leather hoodie, duffel coat and black beanie.
But that's Roots Manuva for you.
The genial British MC is not like other rappers. He writes songs about cheese on toast and toothbrushes, and veers wildly between styles, incorporating everything from grime and drum 'n' bass to dub, roots and reggae in his comical tales of urban British life.
Last night's Powerstation show proved the man born Rodney Smith does things his way - even if it's not always for the best.
Unlike his last tour, when he packed out Auckland's St James two nights in a row, Smith had a four-piece band with him - with the bizarre inclusion of a lead guitarist who looked and acted like he was at a heavy metal show.
And he refused to play some of his best material from his dark period, the mid-2000 albums Awfully Deep and Alternately Deep, and songs like Colossal Insight and Toothbrush.
Instead, Smith was in a smiley, happy mood, kicking off with the thick thump of First Grown, and peppering his set with club-friendly rap designed to keep the crowd moving, like club anthem Get the Get, the uplifting lah-lah-la-lah hook of Dreamy Days and singalong stand out Again and Again.
Predictably, the set's highlight came from his most well known song Witness the Fitness, but it was slower songs - like the slow-mo bass drawl of Much Too Plush, and Too Cold's jaunty operatics - that came off best.
Then there was the synthy riff of Who Goes There? - a song that saw Smith jumping around the stage and up and down on one leg, waving his hands while completely out of time with the music.
His off kilter attitude means there's plenty to love and plenty to hate about a Roots Manuva live show. At least he's keeping his fans on their toes.
What: Roots Manuva
Where: Powerstation, Auckland
When: Thursday, March 1