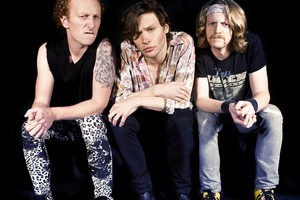 All the usual suspects are back for this year's NZ International Comedy Festival - you know, guys like Irish charmer David O'Doherty, our own Aotearoa charmer Rhys Darby and country crooner Wilson Dixon - but there are some Kiwi comedy circuit virgins on their way here too.
These new acts include Australian musical comedy trio The Axis of Awesome, Irish comedic rock'n'roll group Dead Cat Bounce, and British sketch show troupe Idiots of Ants.
The Axis of Awesome, made up of Jordan Raskopoulos (who looks and acts a little like Jack Black), Lee Naimo and Benny Davis do hilarious pop parodies. Their Youtube hit, 4 Chords, a song that brings together every song you can imagine from Gaga's Paparazzi to Toto's Africa, has been viewed more than four million times.
Dead Cat Bounce also have a popular song called Rugby, that tackles the delicate issue of being gay and playing rugby. Having toured the world, and supported the likes of everyone from short-lived Brit pomp rockers The Darkness and British comedy hero Jason Manford, Dead Cat Bounce might just be the best and silliest rock band since Spinal Tap.
Meanwhile, the four young chaps who make up the Idiots of Ants make a living with their live skits tackling everything from Facebook to Wii - and they've had John Cleese along to perform with them once too.
The festival kicks off in Auckland on April 27 (and in Wellington from April 29) and the other acts performing include locals Brendhan Lovegrove, The Boy With Tape On His Face, Ben Hurley, and Steve Wrigley, and well-known internationals such as Britain's Stephen K Amos and the menacing Terry Alderton, Scottish lass Janey Godley, and Irish smoothie Des Bishop.
This year's opening night Comedy Gala host is American stand up Greg Behrendt, who is the co-author of bestseller He's Just Not That Into You.
For more information go to comedyfestival.co.nz.
-TimeOut