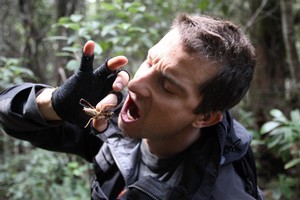 Surely there is very little in New Zealand that is dangerous and poisonous enough to test extreme British adventurer and survival expert Bear Grylls?
It's not like we have elephant poo for him to squeeze dry to extract water to drink.
On the other hand, goat testicles and deer droppings probably taste the same the world over - and there are plenty of those in Aotearoa so he should be right at home.
Grylls was in New Zealand early last year filming and the action finally reaches New Zealand screens in the opening two episodes of season six of Man Vs Wild.
The action man is quick to point out that while this "majestic" country of ours is one of the most beautiful in the world "be under no illusion, this place is still very wild".
He's basing this on everything from his encounters with "raging rivers" and "boulder alley" up on Ruapehu to the "dense steaming forests" and traversing the volatile Southern Alps.
When it comes to his cast-iron stomach he almost meets his match when he eats a giant tree weta. "I've eaten a lot of bad things before but ... phew," he says, gagging.
Also on the menu during his trip is possum, a giant slippery eel (he catches it the traditional Maori way using a flax lure), and freshwater crayfish (which he pops in his sock and boils in a hot pool).
In the first episode Grylls parachutes into the remote depths of the South Island and crosses the country's highest mountain range to get back to civilisation. Then next week he moves on to "the wilds of New Zealand's volcanic North Island" in an episode dubbed "Land of the Maori".
Yes, he's at his dramatic - some might even say melodramatic - best. But that's Grylls for you. He's enthusiastic, daring, and while not quite possessing the comic drama of the Crocodile Hunter, he certainly knows how to ham it up for the camera.
The thing is, you might just learn something too, including how to start a fire with your cellphone (kids, do not try this at home) and, best of all, how to make a comfy cushion out of dried moss (or "nature's cushion" as Grylls delights in putting it). Later in the series, Grylls braves the Borneo jungle, scales vertical drops in the Arizona desert, and faces extreme weather in Iceland, the land of fire and ice.
When: 8.30pm, Wednesday
Where: Discovery channel
What: Bear in the "land of the Maori"
-TimeOut