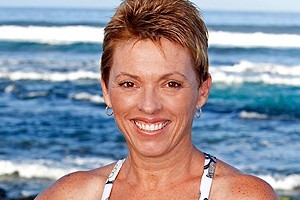 Survivor's first ever all-girl tribe has been labelled "embarrassing" and "weak" by the first person to be eliminated from the show.
Nina Acosta was eliminated after failing to convince her Salani tribe mates to split their alliance and vote out Kat Edorsson, an "immature" 22-year-old blonde who has become infamous for farting on one of her tribe mates.
She became the second person to leave the show after Kourtney Moon was forced to leave last week with a broken wrist.
Acosta, 51, told nzherald.co.nz that Survivor: One World's ploy of splitting the tribes into men against women was a disaster for the girls.
"[The] lack of maturity and focus. It was embarrassing," Acosta said.
"[They had] poor communications skills [and] no understanding of what teamwork means. A team is only as good as its weakest player. It was every woman for herself."
The former policewoman from California said the all-male tribe Monolo were doing everything right.
"Men are willing to let each other prove themselves. Women tend to judge one another by first impressions. [It's] not a good strategy for Survivor."
Edorsson was only being kept around to make up the numbers in an alliance, Acosta claimed.
"She was a distraction and a liability. They kept her because she gave them the numbers, and she was never going to be a threat down the road.
"I think I went against the alliance of five, and wanting Kat to go home. But Kat was becoming a liability to the tribe, and I thought it was time for her to go.
"If I had had a little more time, I think I could have influenced Kim and Chelsea to see things my way."
Watch highlights from Nina's time on the show:
* Survivor: One World screens on Four on Sunday nights. nzherald.co.nz will interview every contestant after their elimination.