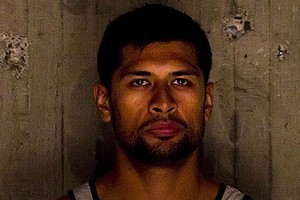 For most of us, trying to remember your lines for the occasional wedding speech or work announcement is nerve-wracking stuff.
In Michael James Manaia, actor Te Kohe Tuhaka performs for two hours. On his own. And sometimes, he's partially naked.
It's that kind of dedication to the source material - John Broughton's iconic play that first debuted 20 years ago - that makes Michael James Manaia thrillingly addictive viewing.
The show - part of the New Zealand International Arts Festival in Wellington - rests entirely on Tuhaka's broad shoulders.
We begin following a naive Kiwi lad as he grows up in the '60s, following him from his childhood and the beatings at the hands of his brutal dad, through to his first love, the death of his best friend, his experiences in the Vietnam War, and the aftermath.
Tuhaka's is a captivating, bold and fearless performance. With minimal props, Tuhaka conveys every emotion, and every line of dialogue, with engaging facial expressions, constant movement and occasional outbursts of song.
Try doing that next time you're making a public speech.
But that's good Tuhaka is - he makes it look easy.
What: Michael James Manaia
Where: Downstage Theatre, Wellington
When: Tuesday, February 28
* Michael James Manaia runs until March 4. For more information, click here.