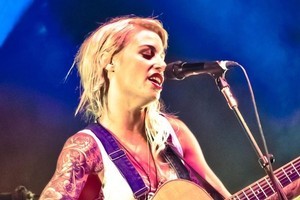 MUSIC
Coming to the end of a long and winding road this weekend is the Classic Hits Winery Tour, with Gin Wigmore, the Mutton Birds and Avalanche City notching up 15 dates around the country. The final two shows are at Hamilton's Vilagrad Winery tomorrow night with the finale at Villa Maria Estate in Auckland on Saturday. The Girl in Stilettos (aka singer songwriter Annah Mac) will open both shows with a short acoustic set.
Meanwhile, on Friday the big-banging, block-rocking beats of Brighton superstar DJ Fatboy Slim, mainstream dubstepper Skrillex, and lippy South African rap trio Die Antwoord will hit Vector Arena in a fired-up dancefloor triple bill.
TV
Bear is back. And the British equivalent of the Crocodile Hunter (well, kind of) is braving the wilds of New Zealand in the latest series of Man Vs Wild (Wednesday, 8.30pm, Discovery Channel). He starts off in the South Island this week, getting in among in the Southern Alps, before heading to the North Island in the second week, where he feasts on tree weta. As you do.
Also on TV this week is local series World's Strictest Parents New Zealand (Thursday, 8.30pm, TV One), which possibly could also be called World's Baddest Kids New Zealand, and What Now (Sunday, 8am, TV2) returns for 2012.
MOVIES
Starting today is Event Cinemas Retro Showcase, which is a chance to revisit some classic films on the big screen. The selection includes everything from classics like Rocky and Dr No through to Gone With The Wind and The Good, The Bad, and the Ugly. And for the kids there is The Muppets Take Manhattan and Labyrinth, although from memory there are some creepy moments in the latter mostly because of that David Bowie bloke as the king of the goblins. For more info go to eventcinemas.co.nz.
Meanwhile, opening in cinemas this week is psychological thriller We Need To Talk About Kevin, which explores the petulant relationship between a mother (played by Tilda Swinton) and her son.
OR...
Get yourself along to the Auckland Art Gallery's Degas to Dali exhibition, which opens on Saturday. As well as seeing artworks by many of the greats - you know, guys like Renoir and Picasso - also included later in the exhibition are screenings of cult silent movie, Metropolis (April 7), and Lust for Life (April 8) starring Kirk Douglas. For more information go to aucklandartgallery.com.
-TimeOut