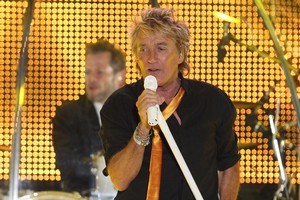 Rod Stewart not only erased the years as he took to the Mission Concert stage in Napier on Saturday night - he also rubbed out the rain.
Looking trim and full of energy, the 67-year-old had the 25,000-strong audience in the palm of his hand from the moment he stepped out to deliver the appropriately chugging Love Train - and had their complete devotion when he remarked "good evening my friends ... we're all in this together ... as long as it don't water down your wine".
What everyone was "in" was a vast hillside venue which bore the brunt of a damp southerly all day and into the night ... until Rod had wrapped up Tonight's the Night, his second song.
Because then the rain disappeared and stars began to appear in the clearing skies.
He's clearly got some clout, this lad.
He and his 13-piece backing band and singers turned on a night to remember, delivering a remarkable 27 songs, having added five to the Australian set list for this, his final concert of the Downunder tour.
Many concertgoers had seen him perform at the same venue seven years ago and reckoned the latest show, which was the Mission's 20th anniversary event, eclipsed even that memorable night.
As Stewart charged into a diverse set, of his own hits and some from the hands of others, the crowd forgot the damp grass and set aside the equally damp umbrellas and coats and joined in the concert.
The crowd's willingness to join in had Stewart call his band to a hush five or six time so he could listen and enjoy the crowd.
After finishing I Don't Want To Talk About It, he was clearly emotional.
"I can't tell you what it sounded like from here - thank you."
He delivered rock and roll as effortlessly as he delivered a remarkable acoustic set.
Handbags and Gladrags, The First Cut is the Deepest, Downtown Train,You Wear It Well ... it was all there.
He interspersed the evening with stories from the past, as well as pictures on the giant screens of his family - all attired in the colours of his beloved Celtic football team.
At the sight of his little grandchild, it was a huge "aaah" and Rod immediately charged into Forever Young.
Very fitting, because he performed with amazing power, and with a voice that has become like a fine wine - it just gets better.
The encore of Sailing and the sleazy but rocking Do Ya Think I'm Sexy left the crowd breathless and happy.
Rockin' Rod had done it again.
- APN