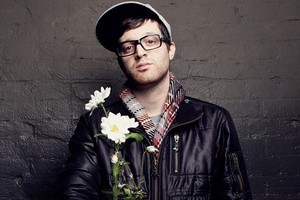 "This is not a concert, this is a show, so if you didn't come here to party tonight, get up the back, and go hang out by the bar, because we're here for a good time".
There ain't no getting between Detroit-born soul singer Mayer Hawthorne, and a good time.
He may be a bit of a cheeseball from time to time, but he more than fulfilled that promise of a good time during his first show in Auckland since releasing sophomore album How Do You Do? in 2011.
Fun was indeed 'number one' (as Hawthorne likes to put it), on Thursday night at the Powerstation.
The near capacity crowd was jumpin' around from the get go, raucous in their appreciation as the snappily attired crooner and his super tight four piece band The County opened with the pumping Maybe So, Maybe No.
2011 hit The Walk came pretty early in the set, punters happily singing along to Hawthorne's delight. In fact many knew the words to most songs - a nice display of devotion given this is only Hawthorne's second time in NZ.
The five gentleman got to show off their vocal talents (the whole band provide beautiful BVs throughout the set) with a five-part a capella intro to A Strange Arrangement (off his 2009 album of the same name), his keys player Quincy sounding like he could've had his own show.
And Hawthorne had the crowd in high spirits as he explained grooving number No Strings Attached: "A lot of my songs are about love, but this one has nothing to do with love...It's all about sex."
He powered through a 90-minute set, mixing tracks from both albums, occasionally melding a couple of songs together into a medley.
The only real disappointment was when he cut A Long Time down to one verse in order to blend it into You Called Me. A beautiful, and brilliantly soulful tribute to Detroit, with one of the best hooks on the album, A Long Time deserved a full outing, not a shortened version. Especially after Hawthorne had done a great job of building expectation by teaching the crowd how to do a classic Detroit club dance known as the 'Earl Flynn' in preparation.
Late set highlights included Green Eyed Love and You're Easy Lovin, and when he broke into that amazing falsetto on Just Ain't Working Out, he was the consummate showman. It's a song of sad sentiments, but it still sounded like a party. He neatly flipped it round by finishing the set with Hooked ("baby I'm hooked right back on you, maybe it looked like we were through"), the bass player and guitarist in simultaneous strut looking the part.
He didn't keep the crowd waiting long for an encore, and when he returned to the stage with a bottle of Hennessy to perform Henny & Ginger Ale, it wasn't long before he was filling the cups of everyone in the front two rows.
Talented and generous. What a guy. Hopefully he's back soon because Auckland clearly loved every minute.