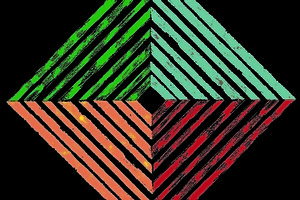 The opening track on Wellington drummer Myele Manzanza's debut solo album samples voicemail messages left by his supportive but weary neighbours, Jill and Tony, who can no longer handle his drumming practice at 11.25pm. It's perhaps indicative not so much of Manzanza being an obstinate or callous fellow, but rather his dedication to his craft. For, at 23, he is one passionately bad-ass drummer. And it turns out he's an impressive songwriter, programmer, and producer too.
While he's been one- third of progressive soul trio Electric Wire Hustle for more than four years, along with spending time on the skins for Olmecha Supreme, Recloose, and his renowned father, Sam Manzanza (who Myele credits as a huge influence), this is his first time in charge of a song set, and he's come up with 10 psychedelic, funk-jazz-soul-afro-beat tracks, featuring a wide array of illustrious guests. Mark de Clive Lowe, Ladi6, Crete Haami, Isaac Aesili, and his fellow EWH musicians David Wright and Mara TK are just a few of those involved. Vocalist Bella Kalolo and keyboardist Steph Brown round out the trio on early stand-out track Absent, with its hip-hop influenced beats, seductive croon, and Prince-esque moments of instrumentation.
It's hard to pick stand-outs, each track offering a different sonic journey, but City of Atlantis is a true highlight - a cool, grooving, soundscape of woodwind, low strings, and hip-swaying beats, which curl around rhymes from Charlie K and a touching verse from Ladi6. Delay is a cloud of, well, delay, but with sharp patterns and fragmented synth riffs, and closing track Me I Know Him is a showcase of precisely weaving rhythms under breathy vocal waves.
There is an amazing attention to detail and space, and even if things occasionally stretch over into the direction of avant-garde and academic, Manzanza has such perfect rhythmic feel that it doesn't matter. It's a beautifully crafted treat for your ears.
Stars: 4.5/5
-TimeOut