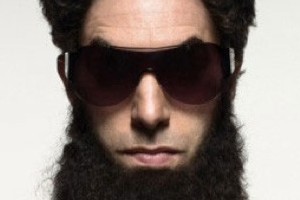 British comedian Sacha Baron Cohen has reportedly been banned from attending this weekend's Oscars ceremony.
Cohen, the star of hit mockumentaries Borat and Bruno, had his tickets pulled over rumours he would turn up to Sunday's event (Monday, NZ time) in costume for his latest movie, The Dictator, Deadline.com reports.
In the film, due for release on May 31, Cohen plays a North African leader named General Aladeen, described as a mix of Saddam Hussein and Muammar Gaddafi.
The film's blurb says the film is a "heroic story of a Middle Eastern dictator who risks his life to ensure that democracy never comes to the country he so lovingly oppressed".
The trailer shows Cohen's character shooting contestants in a 100m race in the leg so he can win, and paying to sleep with Transformers star Megan Fox.
Deadline.com reports Cohen had his tickets for the Oscars pulled over concerns he would turn Hollywood's biggest bash into a publicity stunt.
"Unless they're assured that nothing entertaining is going to happen on the red carpet, the Academy is not admitting Sacha Baron Cohen to the show," an insider told the website.
Cohen reportedly planned to turn up to the event as The Dictator, but change into a suit for the ceremony.
Cohen is a star in Martin Scorcese's Hugo, which is up for several Oscar awards.
He is known for pulling humiliating stunts in character, including landing upside down and trouserless in rapper Eminem's lap at the 2009 MTV Movie Awards while dressed as Bruno.
The Academy Awards is known for its serious tone, but stunts have been pulled before.
South Park creators Matt Parker and Trey Stone cross dressed in 2000, while Ben Stiller appeared in an Avatar costume in 2010.
Watch the trailer for The Dictator:
- Herald online