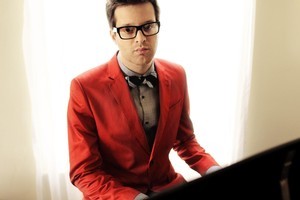 MUSIC
It's a mega week on the live music front, with American soul seducer Mayer Hawthorne (pictured above) taking on the Powerstation tonight with his band The County (make sure you've got your dancing shoes).
Meanwhile, there's also psychedelic instrumental hip-hop DJ Hudson Mohawke spinning decks at Khuja Lounge fresh from his set at Splore, and Wellington drummer Myele Manzana, known for his work in Electric Wire Hustle, will be celebrating his debut solo album release at Ponsonby Social Club. Plus rising Florida metallers A Day To Remember will be headlining a huge all-ages hardcore pop punk show at the Logan Campbell Centre this evening with four local acts in support.
There's also a landslide of eight diverse local acts playing at the Kings Arms on Friday for the Gunslingers Ball, including The Eastern, Heart Attack Alley, Bernie Griffen and the Grifters and Lisa Crawley; while Wellington rootsy bluesmen Little Bushman will take the same stage on Saturday night, and the lately reformed Mutton Birds will be there next Wednesday, on a quick stop off during their national winery tour.
TV
It looks to be a cross between Jurassic Park, Lost, and Blade Runner but you won't be seeing any dinosaurs in the first episode of big-budget sci-fi action drama Terra Nova, which starts this Saturday at 7.30pm, TV3. The latest Steven Spielberg creation centres around the Shannon family, stuck on a decaying, overpopulated Earth in 2149, and desperate to be sent back in time 85 million years to Terra Nova.
Staying in the perhaps rather more mundane world of Earth in 2010, but equally riveting are the ninth series of Grand Designs UK, starting tonight at 7.30pm on TV3, and Deadliest Roads, a show about treacherous roads in the Himalayas, Wednesday night, TV3, 7.30pm.

MOVIES
The multiplexes are getting a wee bit chocka with all the Oscar contenders, but there's another batch of great films out this week too. Even though it was snubbed by the Oscars, Steve McQueen's latest film Shame, starring the extraordinary Michael Fassbender and Carrie Mulligan, is a masterful examination of addiction, control, intimacy and desire. Stephen Daldry's adaptation of Jonathan Safran Foer's beautiful novel Extremely Loud & Incredibly Close also opens, telling the story of a young boy with Asperger's, adventuring into the world of New York to unravel a mystery after his father's death in the 9/11 attacks. Starring Tom Hanks, Sandra Bullock and Thomas Horn as a central family, it's ensemble cast including John Goodman, Viola Davis and Max von Sydow make this Best Picture nominee sparkle.
On a different plane entirely is Contraband, a thriller about international money smuggling, starring Mark Wahlberg as the family man who got out of the game, only to be forced back into it by a wayward brother-in-law.

OR...
Take yourself back to the world of 1980s London and get along to the new season of Top Girls at Q Theatre. Danielle Cormack, Rima Te Wiata and Rachel Forman star in this celebration of shoulderpads and power dressing, as an ensemble of ladies do lunch, and trigger questions about gender politics, corporate culture and moral compromise. Opens tonight and plays until March 17.
-TimeOut