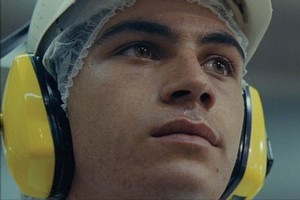 A New Zealand short film about a man's first day in a meatworks has won a film festival award in Berlin.
Sam Holst's 11-minute movie Meathead, based on a true story and shot in Waitoa and Thames, won the Best Short Film in the Youth Jury Generation 14+ category at the Berlin international Film Festival.
The film follows a 17-year-old as he begins a new job in a bloody and brutal environment.
By the end of the film, he is fearing for his life and wondering if he'll survive.
Jurors praised the film for portraying a man's journey into adulthood in just a few minutes.
"Using authentic images the film portrays the rituals of closed communities which you cannot escape from. The film exemplifies peer pressure and social pressure which can be found in all societies.
"For us, it has all the qualities necessary for a great short film," the jury said."
Meathead has also screened at the Cannes Film Festival, Melbourne International Film Festival, Montreal World Film Festival, New Zealand International Film Festival and the Show Me Shorts Film Festival.
It was awarded the Silver Plaque at the Chicago International Film Festival.
Watch a clip from Meathead:
- Herald online