Each week Duncan Greive performs some low grade analysis on the week's New Zealand Singles Chart and reviews a few new release pop singles.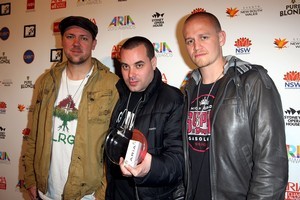 The bad news: Flo Rida has his sixth week at number one. The worse news: Hilltop Hoods have a hit single - i.e. We have allowed an Australian hip hop artist into our top 20. This should have you all deeply troubled, because as all young children are taught at school, Australian hip hop is comfortably the worst genre in the world. And it's not even close.
ESPN played I Love It ft. Sia (the same artist supporting Flo Rida at number one - surely she couldn't bring them up there? Could she?!) constantly during the Super Bowl, but that alone can't get you a hit, right? Whatever - it's comically awful. And now it's top 20.
Further down there's Lil Wayne's Mirror, with one of my favourite productions of recent times (reminds me a bit of Xzibit's Paparazzi - if you know that song, you're officially really old), but goes and spoils it by having professional trilby Bruno Mars warbling the hook.
Next week either Guetta or Train will be at number one. The crisis shows no signs of abating.
RIANZ TOP 10 NEW ZEALAND SINGLES CHART
1 Flo Rida ft. Sia - Wild Ones
2 David Guetta ft. Nicki Minaj - Turn Me On
3 Train - Drive By
4 Annah Mac - Girl in Stilettos
5 David Guetta ft. Sia - Titanium
6 Labrinth ft. Tinie Tempah - Earthquake
7 Ed Sheeran - Lego House
8 The Black Keys - Lonely Boy
9 Ed Sheeran - The A Team
10 Snoop Dogg & Wiz Khalifa - Young, Wild and Free
SINGLE OF THE WEEK: USHER - Climax
Volume rating: 9/11
Usher has always been incredibly potent when he's singing into the abyss - think U Remind Me or Burn or Moving Mountains. So after a period of pretty av bumping uptempo stuff like DJ Got Us Falling in Love it's brilliant to hear him back to heartbreak on Climax. (Side note: did you know he released four straight singles starting with "U" in the early '00s? Well he did.) The song was produced and leaked by Diplo, who has taken cues from Usher's children Drake and The Weeknd to create an airless room for the singer to suffer in - it's the ghost of the day-glo Guetta production, the stray bits of digital scree left when the party's moved on.
Lyrically this Climax is noted as the beginning of the end, rather than a culmination, and while you might consider that a strangely melancholic way to look at the world, it seems the most natural expression in the world for Usher.

TAYLOR SWIFT - Safe & Sound
Volume rating: 5/11
From the soundtrack to The Hunger Games, which if my daughter is any guide will be bigger than anything this side of Twilight when the movie drops, Taylor does a classic '90s move with her contribution - i.e. capitalising on the new audience opportunities a project like this represents with an unreleased song, while simultaneously not giving us anything she hasn't done better before. The rest of the soundtrack is like Kid Cudi and Arcade Fire, so maybe it's good that she's toned down the pop dynamism and is sounding all grown up. But that doesn't make the slightly dirgey Safe & Sound feel like anything more than a cast off from the Speak Now sessions - nice, but slight.
CASSIE - King of Hearts
Volume rating: 8/11
Since debuting with the slow-mo perfection of Me & U a few years back Cassie seems to have carved out a niche as a true r'n'b fan's fave. Which is to say she hasn't sacrificed her sound and vision to the contemporary sonic commandments, and has as a result stayed not quite famous. King of Hearts has a beat which recalls dancehall genius Lenky (most famous for his Diwali rhythm, the bed for Lumidee's Uh Oh, Wayne Wonder's No Letting Go and Sean Paul's Get Busy), while her vocal has an almost English pop purity. Great song.
SUNKEN SEAS - High Rise
Volume rating: 7/11
This is not pop by any means, but it is the first song that's been "submitted" to SOTOG for review, and I'm going to use a much broader definition of pop for local stuff - which will basically be taken to mean anything involving drums and/or vocals. That being said, if you're going to call a hazy, throbbing instrumental High Rise, it better be a tribute to the phenomenal Japanese band which operated under that name. This might be, but either way it certainly doesn't disgrace the name by any means. It's maybe a little clean and precise for my tastes, but the guitars honk and wail while the beat just pounds ever more furiously, so that by the close you're locked in tight.
MARTIN SOLVEIG & DRAGONETTE FT. IDOLING!!! - Big in Japan
Volume rating: 8/11
Dragonette totally blew my mind a few years back with I Get Around, which was effortlessly slutty party pop. They remain on the same topic now, years later, with Big in Japan, which manages to be both very similar to Give Me All Your Luvin' (which Solveig also produced) and heaps better at the same time. Smart, dumb, chanty synth pop, man. You can't beat it.
To submit or suggest a track for review email singles@volumemagazine.co.nz or tweet @duncangreive.