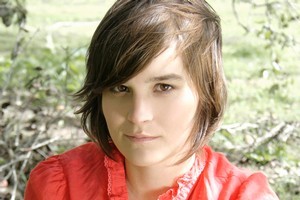 There's a sense of teetering on an edge in this debut album by 22-year-old Auckland songstress Lydia Cole. On one side there is composure and control; on the other is reckless emotion, and though Cole stays on the composed side, she's succeeded in creating a set of songs so vulnerable you feel you might fall over the edge any moment.
Cole released her second EP, Love Will Find A Way, in 2009 but where that collection had an optimistic, hopeful bent, this album seems to have been more of a catharsis and a healing process, a reflection of a little more life lived. She's broken, bewildered and frustrated, though still youthful rather than world- weary. The lyrics are winning for their lack of obfuscation - these are undisguised songs of heartbreak, loneliness, and confusion, and it's this element of innocence, this guileless way of laying herself before the listener with complete trust that makes this album memorable.
Most of the 11 tracks are pretty stripped-back, holding her charming voice to the fore, supported by gentle guitar, piano, percussion and BVs, mostly acoustic, with occasional decoration of xylophone or melodica. But though the delicacy is stunning, it would be wonderful to her her vocals really let rip, even for a moment, to be loud and strong in her sadness, rather than repeating herself, and having the songs occasionally blend together.
Stars: 3.5/5
Verdict: Winningly vulnerable songs
-TimeOut