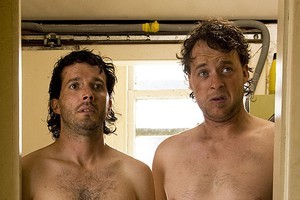 The new trailer for Bret McKenzie's homegrown film Two Little Boys has hit the net. That, and plenty more cool stuff, features in our wrap of the best web links of the day.
1. Kiwi comedian Bret McKenzie wears a pair of speedos, sports a mullet and "kills someone" in his new film Two Little Boys. Directed by Robert Sarkies and based on his brother Duncan's book of the same name, Two Little Boys is an offbeat comedy about two mates Deano (Hamish Blake) and Nige (McKenzie) trying to cover up a murder. It premiered at the Berlin Film Festival over the weekend and gets a New Zealand release in September. But by then McKenzie might have won an Oscar. (Flicks.co.nz)
2. Bon Iver will be in the country next week for a sold out Wellington show. It's just as well because Justin Timberlake is probably in his bad books after this excellent impression of the folksy singer on a Saturday Night Live tribute performance for little Blue Ivy. Keep an eye out for cameos by Prince, Brad and Angelina and a speechless Taylor Swift too. (Popurls)
3. Speaking of SNL, check out Sleigh Bells performing two new tracks: The rawktastic Comeback Kid and the mellower End of the Line on the same episode. Album Reign of Terror is due out any second now. Someone get them to New Zealand quick smart. (Stereogum)
4. If you're scared of flying, maybe don't bother with the new trailer for 7500. It's from the guy who made The Grudge, and it's unlikely to be included on your next inflight entertainment menu. Starring the dude from Entourage, Sookie's deadbeat brother from True Blood and some other familiar faces, 7500 is due out later this year. (Flicks.co.nz)
5. Who knew Chris Cornell was a Whitney Houston fan? Here's his take on Houston's hit I Will Always Love You at a recent San Francisco show. (YouTube)
6. Everyone is a fan of boom-rap, so check out the dayglo-drenched new clip for The Cool Kids' Rush Hour Traffic. If you're extra keen, you can even listen to it while you're sitting in gridlock on your way home tonight. (Stereogum)
7. If you only see one movie trailer today, make it this one: Sound of Noise. I know nothing about it, so increase my knowledge of this incredibly weird musical thing described as "Bonnie and Clyde on drums" below. (Apple)
8. Have your say on crucial things like television's sexiest woman in TV Guide's annual Best on the Box survey right here. You know you want to. (Facebook)
9. Wondering how bad Cypress Hill's dubstep revival was? Here's Roll It, Light It, their collaboration with Rusko. Bleargh. (Twitter)
10. If you hadn't heard, grunge revivalists Wavves are coming over in May for one Auckland show on May 3. I'll be there with my wallet chain and skateboard praying they play this one. (Under The Radar)
* Seen anything worth sharing? Post your own links below.